BOOK REVIEW: GRAPHIC FICTION
'Shapod Shoney': A beast of a graphic novel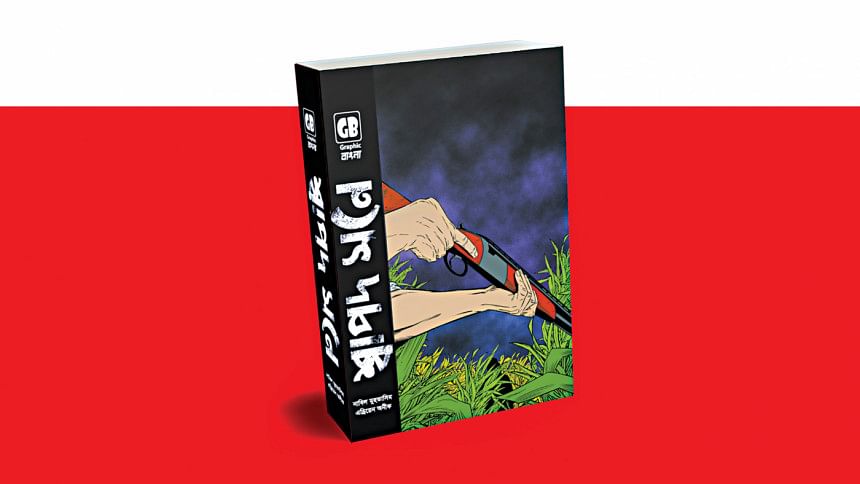 What comes to your mind when you encounter a graphic novel called Shapod Shoney (Graphic Bangla, 2021), which translates to 'Along with the Beast', the cover art showing a man holding a rifle under the dark sky? My first impression was that it could be something along the lines of Jim Corbett out in the wild, hunting a man-eating tiger. But as I would find out soon, the hunt here is for something more sinister than a deadly beast; Shapod Shoney falls more squarely under the category of the supernatural, with horror as its subgenre. The target audience for this graphic novel, consequently, excludes anyone below 18 years because of its graphic and gory imagery, the use of alcohol and cigarettes, and the explicit language in the dialogues.
The story revolves around two main characters. First, we have the paranormal investigator, Shiplu, who would go to the farthest corners of the world for a taste of the supernatural. It is his passion more than his profession. On the other hand we have Jamshed, an SAF gold medalist shooter, with a problematic and tragic past. Quick to lose his temper and quicker to draw a gun, he accompanies Shiplu on several of his paranormal adventures. This time, however, Shiplu asks for his help in investigating a case in a remote village in Rangpur. Little does Jamshed know, it will be the most terrifying one yet.
The characters here are flawed and operate in different shades of grey. The novel explores how human beings are capable of diabolical deeds with dark motivations that even the deadliest animals don't seem to have the stomach for.
The source material was first published in 2016 as a standalone novel. A doctor by profession, Nabil Muhtasim has gained popularity as an author from a very young age for his brilliantly imaginative work. Some of his fan-favourites include Bajikor, an espionage thriller trilogy (Batighar Prokashoni, 2017), sci-fi thriller Bibhong (Abhijan Publishers, 2019), and of course, the first Shapod Shoney itself.
Muhtasim's plots characteristically have climactic twists, and the way he misleads a reader from predicting them correctly is rewarding, which was something I enjoyed in both Shapod Shoney and Bajikor. He is also adept at describing intense action scenes, and writing great dialogues in line with each character's personality. Most of all, though, I enjoy his intricate plot lines written with a nuanced simplicity, which makes it easier for any reader to follow through.
In Shapod Shoney, for example, the chapters alternate between Shiplu and Jamshed's points of view, and while in Jamshed's chapters the story progresses in a linear fashion, Shiplu's sections jump back in time through flashback sequences to several of his paranormal cases. The juxtaposition allows us to witness both protagonists in their elements, their diverging personalities, motivations, and reactions, while experiencing some blood-curdling sub-plots along the way. With the author himself hailing from Rangpur, there is generous use of local dialect delivered by the inhabitants of the village in Rangpur where our two protagonists move.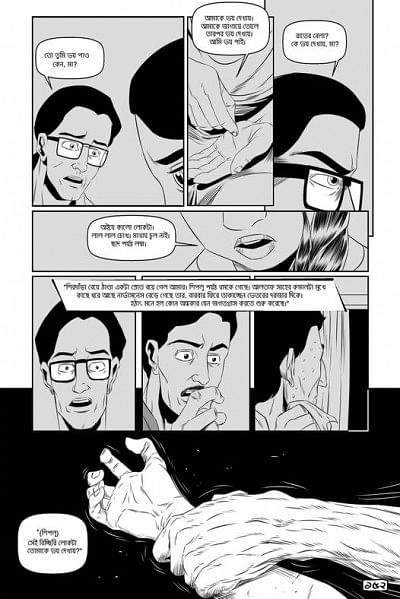 Adrian Anik, meanwhile, has been a prominent artist in the comic book industry for a while now, and is known mostly for his work in the horror comic book series, Pishach Kahini (Dhaka Comics). Talented as he may be, making a 400-page graphic novel can be a back-breaking and time-consuming process, but it was Anik himself who approached Nabil, who graciously agreed. What you will observe in the novel is his passion and determination to tell a story through his art. In the black and white colour palette, Anik's talent shines the brightest when it comes to the anatomical detailing of the 'body horror' elements and in conceptualising nightmarish creatures.
There are, however, rooms for improvement—spelling mistakes in the prose could have been avoided, and the facial expressions on some panels could have been more nuanced in certain scenes. In one chapter, for example, the detailing of facial expressions—jaw lines, nasolabial folds, frown lines, etc.—are entirely missing.
Nevertheless, reading this graphic novel has made me feel optimistic about our local comic book industry. There are so many great novels in Bangla literature, and Graphic Bangla's Shapod Shoney is one huge step towards adapting them into visual work that should reach a wider—and more varied— readership. After all, as Art Spiegelman, Pulitzer Prize-winning author of Maus: A Survivor's Tale tells us, "Comics are a gateway drug to literacy".
Kaisar Kabir is a pop-culture enthusiast and a former radio show host currently earning dough in the content industry.