BOOK REVIEW: GRAPHIC NONFICTION
Alison Bechdel's 'Fun Home': A family grows into its skeletons
Against the backdrop of America as it transitioned from the Stonewall riots to the AIDS movement, Alison Bechdel's memoir brings forth snapshots of conflict that brewed in her father's funeral home in 1960s-70s Pennsylvania.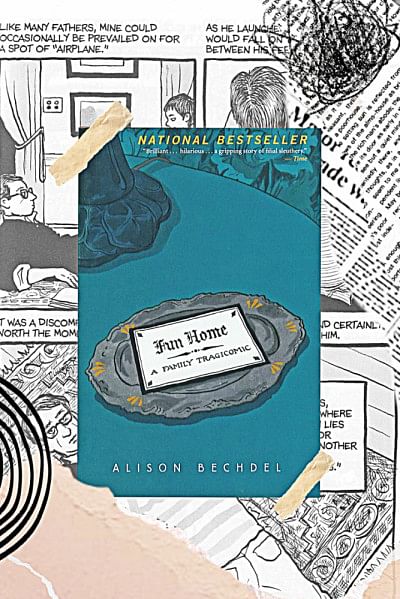 Fun Home: A Family Tragicomic (Houghton Mifflin, 2006) unfurls with heated family dysfunction, subtle and soaring ugliness, shame, and queer confusion. This is a story of a closeted gay father and his queer daughter, and how their bearings align.
On first impression, Bruce Bechdel is an authoritarian father with a desperate need for superficial perfection. While he succumbs to society's censure, his suppressed self manifests in the aspects of his life he can control. He fixates on the restoration of their home, obsessed with keeping it pristine, controlling every bit of their lives from clothing to decor. Despite Alison's tendency to dress masculine from an early age, Bruce insists on changing this. "Not only were we inverts, we were inversions of each other. While I was trying to compensate for something unmanly in him, he was attempting to express something feminine through me", Alison reflects at one point in the book. "It was a war of cross-purposes, and so doomed to perpetual escalation."
A lot of Alison's writing and philosophy are strongly influenced by Joyce and Proust. She compares Bruce to Dedalus, for the precision of his craft and the way his death conveniently aligns with the time he was reading Camus. These frequent allusions to other literary works, queer literature especially, is an attempt to seek shared experiences while living in a homophobic society. Bechdel writes, "I employ these allusions to James and Fitzgerald not only as descriptive devices, but because my parents are most real to me in fictional terms. And perhaps my cool aesthetic distance itself does more to convey the Arctic climate of our family than any particular literary comparison." Understanding queer interpretations of both Homer's Odyssey and Joyce's Ulysses is the key to truly grasping the parallels Bechdel draws.
A lot of the family's dynamics parallels Noah Baumbach's film, The Meyerowitz Stories (2017), in that the disorder evokes the same feelings of detachment, and explores the difficulty of communicating with disengaged family members. Fun Home is peppered with the same tones of comedic pizzazz and despondency that make up Baumbach's signature of tragicomedies.
Eventually, the focus of the story shifts from the family to the narrator's personal life as a queer college freshman, and how living with a closeted parent with a secret has out-turned and influenced her own experiences.
While she retells these experiences, Alison presents herself as a meticulous artist and an eloquent and articulate writer. Both her use of words and imagery are dense. Every panel in the graphic memoir is vital to the storytelling—the detailed illustrations of maps, notebooks, and book-covers are clues that take us a step further to understanding the characters. At times, you can join the dots of what Alison is reading to what is happening in her life. The duotone sketches keep the reader undistracted. Alison's work is one of a kind, standing undisputed as a poignant work of queer literature and a vulnerable insight into the psyche of an unusual household.
Rushmila Shehreen Khan is a published poet and seasonal artist. Find her at [email protected]