Boi Mela books for your Valentine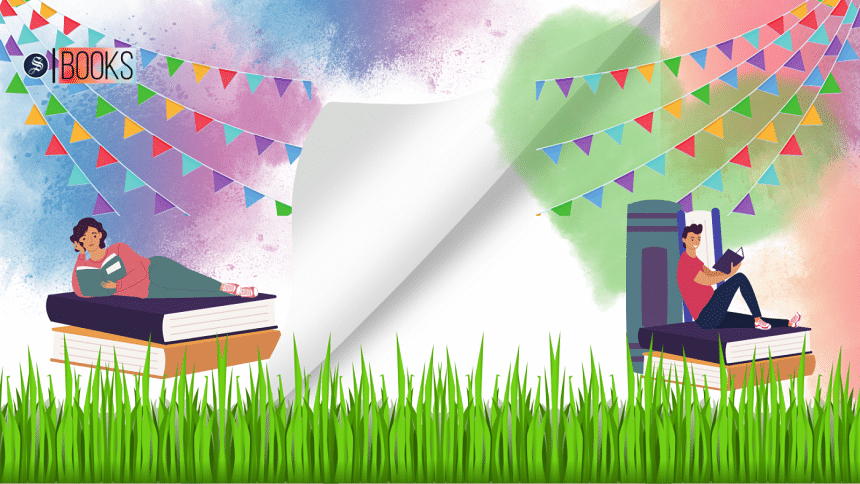 February in Bangladesh is an eventful month. We celebrate love, spring, language and books, all within a span of four weeks. With Valentine's day falling at the same time as Boi Mela, what could be a better gift than books? Don't know where to start? This list has some handpicked titles launched at the Boi Mela this year.
She Eshe Boshuk Pashe (Onnodhara, 2023)
Sadat Hossain
Sadat Hossain is the indisputable king of popular Bangla romance books, as his stories represent the simplicity of our everyday sentiments in a new light. Be it his expression of love, or the ability to grasp attention, his books have always been on the bestseller list. His latest book, She Eshe Boshuk Pashe, revolves around the life of a married woman, Renu, and her search for love and self-exploration. Throughout the plot, she is on a pursuit for happiness, as the other protagonist shares his words of wisdom. While it is not the conventional love story one expects to read, it shows how powerful this feeling could be. It represents the real stories brewing around us. 
Prematal (Addhayan Prokashoni, 2023)
Mouri Morium
Mouri Morium's debut novel, Prematal, is a plot extended from one of her popular short stories, "Ekti Nirghum Raater Golpo". Titir and Mugdho are the protagonists. Morium presents a story taken from her personal experiences and travel stories. The two meet during a trip, and accidentally get detached from their groups. As they embark on a new adventure, they are unsure of what the future holds. What makes this book is the simplicity of the storytelling, making it an easy read even for new readers. For people who love traveling, this book might offer just the right dose of trip inspiration and meet-cutes to melt hearts.
Bhalobashi (Anindya Prokash, 2023)
Redwan Masud
Set in the 1990s, Bhalobashi by popular writer Redwan Masud takes readers back to old school love stories—the blossoming freshness of first love, the excitement of catching a glimpse, and expressing feelings through words. The book explores the love story of two pen pals who write letters to each other. The protagonists not only fall in love with the person, but their ideas, expressions, and even the handwriting. These letters, covered in a yellow envelope, trade the dreams of the unrequited lovers. When the exchange stops, the protagonist (who has a speaking disability) keeps waiting for her yellow envelope, unaware of what happened at the other end. While a love story lies at the heart of the plot, it also explores other social issues prevalent during that time–child marriage, the dowry system, and other archaic rural affairs.     
Roktakto Bhalobasha (Anannya, 2023)
Ismail Hossain Ismi
Ismail Hossain Ismi's novel, Roktakto Bhalobasha, explores the dynamics of a contemporary love story. It follows the transformation of love from being a selfless emotion to one that causes dissatisfaction and despair. While love is expected to be built on the foundation of trust and cherishing the experience, over time various expectations challenge the very foundation of this concept. While other love stories are relatively simple to understand, Hossain's book presents a different take on the contemporary romance, and its obsession with unsatisfied demands. 
Krishnapokkher Dhruba (Panjeree, 2023)
Zahidun Nabi
Zahidun Nabi's Krishnapokkher Dhruba is a love story featuring Shaoli, a creative literary enthusiast, and Dhruba, a social warrior fighting against his society's corrupt people. While Shaoli's heart is full of genuine love, Dhruba is constantly torn between love and betrayal. In order to eradicate evil from his society, he undertakes a secret mission to destroy with his own army. Behind the treacherous Dhruba there lies an artistic heart which is well-described throughout the novel.