Crores of taka being siphoned from country through Bigo Live, Likee: CID
Five including Chinese national arrested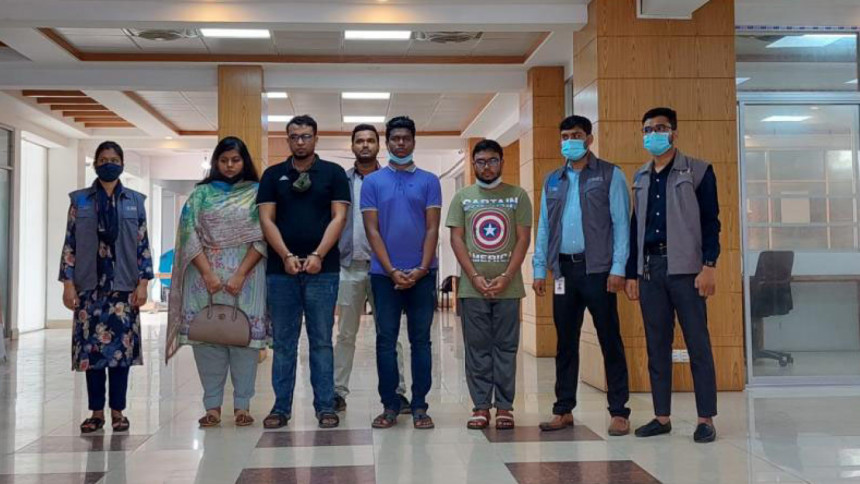 Criminal Investigation Department arrested five persons including a foreign national from different areas of Dhaka yesterday on charge of laundering crores of money abroad through live streaming apps like Bigo Live and Likee.
The arrested Bangladeshis were identified as Mostafa Saif Reza, 26; Arif Hossain, 27; SM Nazmul Haque, 27; and Asmaul Husna, 28.
The detail of the Chinese national could not be known immediately.
Law enforcers have so far tracked down transaction of more than Tk 100 crore in bank and mobile financial service accounts of the arrestees and their accomplices, Jamil Ahmed, deputy inspector general (Cyber wing) of CID, told reporters at a press briefing today.
The CID officials suspected that majority of the money were siphoned from the country.
Youths and Bangladeshi expats are targets of these rackets, Jamil said, adding that many are being lured through "obscenity" during live streaming.
To join the live streaming, its users have to top up "Bigo Live Diamonds" from their Bangladesh based agents. These "diamonds" are digital currency that local agents buy from foreign admins through banks, MFS or hundi, CID officials said.
Thus, crores of taka are being siphoned off every month, Jamil added.
CID officials said Saif and Asma are the Bangladesh based admins of Bigo Live; Arif used to recruit young girls and have them join in the live streaming; and Nazmul is one of the agents who sold "Bigo Live Diamonds" to users.  
Meanwhile, BIGO Technology (BIGO) issued a statement saying that the company has a zero-tolerance policy against any criminal activity by any person or individual, regardless of whether or not the person is involved with any of the company's local agency partners.
"We have developed rigorous policies and processes, combined with our industry-leading technology to combat any criminal behaviour. At the same time, we do not take a side with or endorse any isolated action of any person or organization who may or would have an intention of involving BIGO's name in any criminal activity," the statement said.
"We are conducting a thorough review on this case and will work with relevant law enforcement agencies in whatever way we can. Our commitment to ensuring a safe, secure and trustworthy environment for our users is to be upheld in the days to come. As a company based in Singapore, we are humbled by the connections that our digital media platforms bring to our users in Bangladesh," the statement further added.