A work extraordinaire by an ordinary man
Construction worker Saheb Ali sets up a park with Liberation War themes on his yard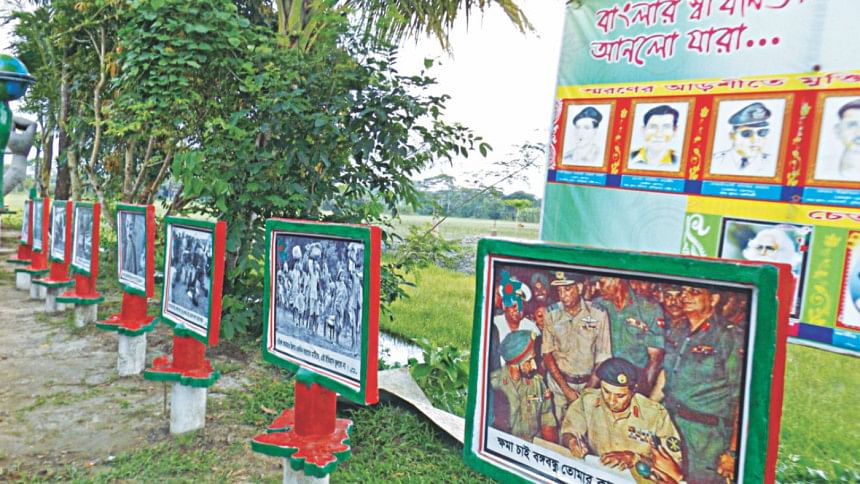 A children's recreation centre with sculptures depicting the themes of Liberation War attracts a lot of people, especially students, at Auliapur village in Sadar upazila, thanks to the initiative of a construction worker.
The architect of the splendid task, Saheb Ali, 55, has already built 37 sculptures related to the Liberation War and plans to extend the number to 71.
Saheb Ali, who was only eight years old during the Liberation War, planned to set up the park to highlight the war for the new generation. 
"I worked as a labourer at a rice mill in Munshiganj town in 1986. There I had a co-worker named Rahima Begum from Tangail town. She was an eye witness to the Liberation War and she told me about some sorrowful incidents of the war," said Saheb Al, now living at his village, around 10 km south from the district town.
"I learnt from Rahima how the Pakistani occupation army brutally tortured and killed our countrymen, which pained me very much. I was inspired to make the sculptures to represent the Liberation War to the people who did not see it," he added.
"I planned to build a total of 71 sculptures and have already built 37. I need Tk 10 lakh more to build the remaining 34 sculptures. I urge all to come forward with help to fulfil my dream," Saheb said.
"I sold my land to set up the children's park, which will be shifted to another place where I have some land," he added.
Minara Begum, wife of Saheb Ali, said, "We live from hand to mouth. But I am trying my best to extend all sorts of cooperation to make my husband's dream come true."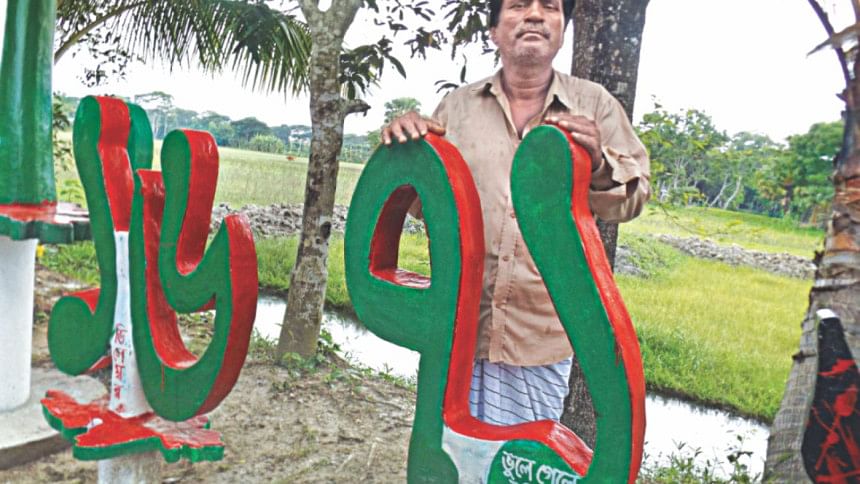 The sculptures will awaken in the new generation interest for knowing about the Liberation War as they do not know the real history, Auliapur union unit Muktijoddha Sangsad Commander Abdul Jalil Hawlader said.
Abu Sayeed, a final year student of political science at Patuakhali Government College, said they did not see the Liberation War and learnt about it by reading books, but they can visualise it by seeing these sculptures.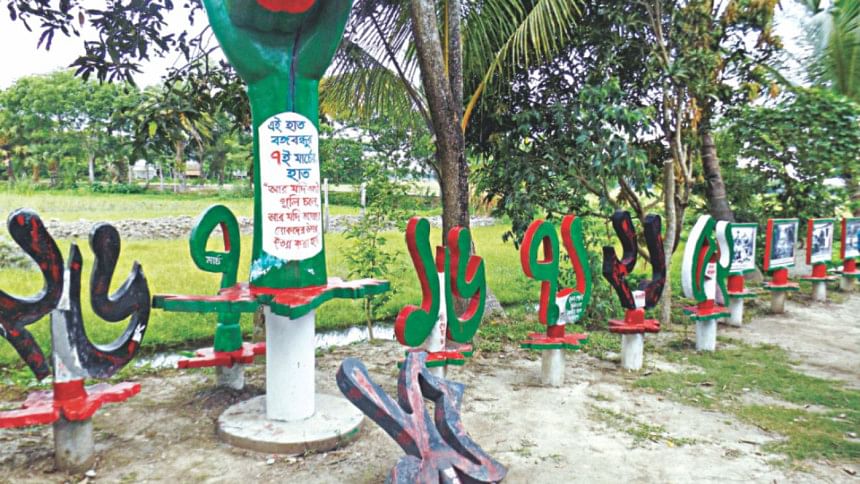 Sahin Khan, a second year student at Ishaq Model College, said they are learning about the Liberation War from the sculptures.
"Although Saheb is a day labourer, he has done a wonderful job by building these sculptures. The government and solvent people should come forward to help him complete his project," said Patuakhali Press Club President Swapan Banerjee.
Saheb Ali has two daughters and two sons. The elder daughter, Nilufa, is married and the other daughter, Nilima, is studying in Class VI at a local school. Of his twin sons, aged 15, Hasan is a battery-run auto-rickshaw driver and Hossain is a mobile phone mechanic.