5 die of dengue fever in Dhaka, Barishal
Death toll rises to 40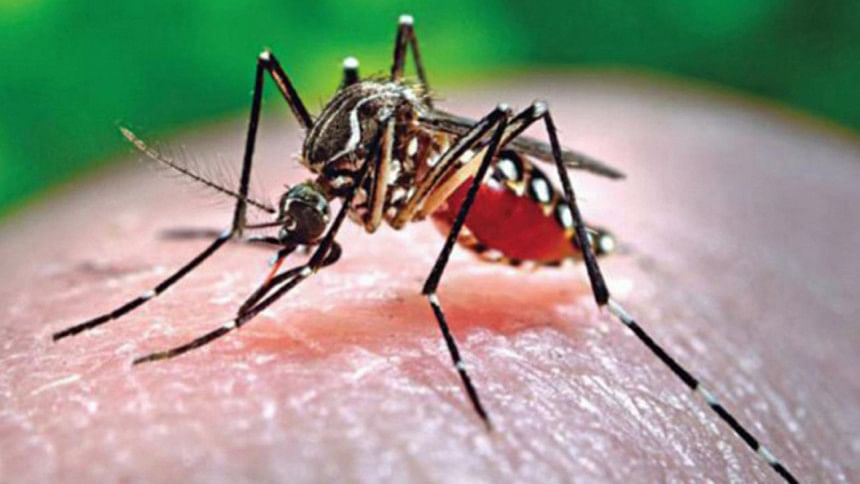 Five people, who had been diagnosed with dengue fever, died in Dhaka and Barishal today, hospital sources said.
With these, the number of people who have died after being diagnosed with the disease has risen to 40.
In Dhaka, Farzana Hossain, 42, hailing from Siddhirganj of Narayanganj, breathed her last at the Intensive Care Unit (ICU) of Dhaka Medical College Hospital (DMCH) around 1:45am, , said Dr Nasir Uddin, assistant director of DMCH.
Meanwhile, Md Liton, 25, a driver and resident of Dhaka's Wari, died around 10:15am while receiving treatment at the medicine ward of DMCH), Dr Nasir Uddin said.
Liton was admitted to DMCH for dengue on Sunday, he further said. 
The hospital witnessed the death of nine people, six of them women, allegedly from dengue during the months of June and July, the DMCH official said. 
In Barishal, three people -- Aleya Begum, 50, Aslam Khan, 24, and Sohel, 18, -- died after they were rushed to hospital in critical condition, reports our Barishal correspondent.
Aleya, wife of Abdul Mannan of Ashokathi village under Gournadi upazila, got infected with dengue during her visit to Dhaka recently, Dr Monowar Hossain, civil surgeon of Barishal, told this to The Daily Star quoting family members. 
On Monday, she went to a local physician Sukhdeb Kundu, who sent the patient for Dengue NS1 test at a private diagnostic centre where she was diagnosed with dengue today, he said. 
Following her diagnosis, she was rushed to the upazila health complex where died at 9:00pm tonight. 
Vital organs of her body including heart, liver and kidneys failed to function due to infection with dengue, the civil surgeon added.
Earlier, Aslam, hailing from Shyampur Bakerganj of Barishal was rushed to Sher-E-Bangla Medical College Hospital in an unconscious state last night and died around 3:15am, our district correspondent reports quoting the hospital's director Dr Bakir Hossain.
Another patient, Sohel 18, was also brought to Sher-E-Bangla Medical College Hospital from his hometown in Kaukhali area of Pirojpur around 1:20am. He breathed his last around 3:40am, the official said.
Dengue has already spread to 50 districts with a record 1,096 patients being diagnosed with the viral disease yesterday alone.
Three days ago, dengue cases were reported from only 17 districts and the day before yesterday reports came in from five new districts. The number of districts with dengue cases shot up to 50 yesterday, according to the Directorate General of Health Services (DGHS).
The government, however, claims that eight people have died of dengue so far.