UN experts urge probe into blogger Niladri killing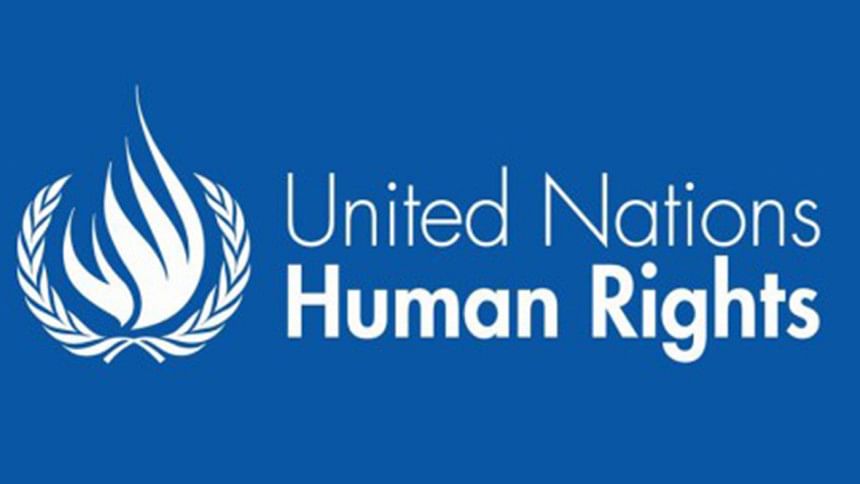 United Nations' experts on freedom of expression today condemned the killing of Bangladesh blogger Niladri Chattopadhyay.
"The violent killing of another critical voice in Bangladesh shows that serious threats to freedom of expression persist in the country," The UN's Special Rapporteurs on freedom of expression, David Kaye, and on extrajudicial executions, Christof Heyns, said in a statement on Friday.
READ more: Yet another blogger killed
The online activist Niladri, 40, was stabbed to death by unknown assailants at his East Goran residence in Dhaka this afternoon.
A group of four youths stabbed the blogger indiscriminately in his flat on the 4th floor of a five-storey building around 1:30pm, the victim's wife Asha Moni told The Daily Star.


Meanwhile, hours into the killing, Ansar-Al-Islam, Bangladesh chapter of al-Qaeda in the Indian Sub-Continent, has claimed responsibility for the killing of blogger Niladri Chattopadhyay terming him an enemy of Allah.
READ more: Ansar-Al-Islam claims responsibility for Niladri murder
"It is vital to ensure the identification of those responsible for this and the previous horrendous crimes, as well as those who may have masterminded the attacks," the experts said, calling for a prompt and thorough investigation.
"The organized targeting of critical voices aims at promoting a culture of silence and fear, and affects the society as a whole," the Special Rapporteurs stressed.
Also READ: Amnesty says killing of blogger must not go unpunished
"The Bangladeshi authorities must not only continue to strongly condemn these horrendous acts against freedom of expression, but should also ensure that their words are followed by more effective efforts to ensure greater accountability and prevent this kind of violence."
In February this year, the blogger Avijit Roy was killed and his wife seriously injured in a similar attack. A month later, another blogger, Oyasiqur Rahman, was also killed in the Bangladeshi capital. In May, Ananta Bijoy Das, who wrote for a website promoting 'science, rationalism, secularism, freethinking, human rights, religious tolerance, and harmony amongst all people in the globe,' was also hacked to death.
The UN Special Rapporteurs reiterated their call on the Bangladeshi authorities to consider specific initiatives to prevent the recurrence of attacks against writers and activists. This should include not only the provision of particular physical protections to those who are potential targets for violence, but also open public debate challenging extremist views of all kinds.
Committee to Protect Journalists
Meanwhile, New York based Committee to Protect Journalists (CPJ) in a press note urged Bangladesh authorities to immediately investigate the murder.
"How many more bloggers must be murdered before the government of Prime Minister Sheikh Hasina acts decisively to stem the violence and impunity?" said CPJ, an independent, nonprofit organisation that works to safeguard press freedom worldwide, Asia Program Research Associate Sumit Galhotra.

"We call on the Hasina government to take urgent steps to bring the perpetrators of this barbaric murder to justice and protect all journalists under threat."
In 2013, Niladri's name appeared on a widely circulated list calling for the deaths of 84 bloggers perceived to be atheists, it said.
The BBC reported that Niladri identified as a secular atheist and came from a Hindu background-similar to two other bloggers killed earlier this year.
Seventeen journalists, including Roy, Das, and Babu, have been murdered in Bangladesh since 1992, when CPJ began keeping records. Most of the cases have not been resolved.
United Nations in Bangladesh

The United Nations in Bangladesh also condemned the killing.
UN Resident Coordinator, Robert D Watkins, described the fatal attack as "a heinous crime against yet another on-line activist and an attack on tolerance".
Furthermore, he "calls upon the authorities to investigate and bring the perpetrators to justice in a speedy manner, including in all the previous cases.''
"The Police need to take concrete measures to protect citizens. Moreover, strong condemnation of these incidents from the all levels of society will be important to prevent further murders".
The UN in its earlier statement already drew attention to the seemingly increasing intolerance towards people peacefully expressing their views on-line.