Three killed in Cox's Bazar 'gunfights'
Two were 'drug traders', Rab says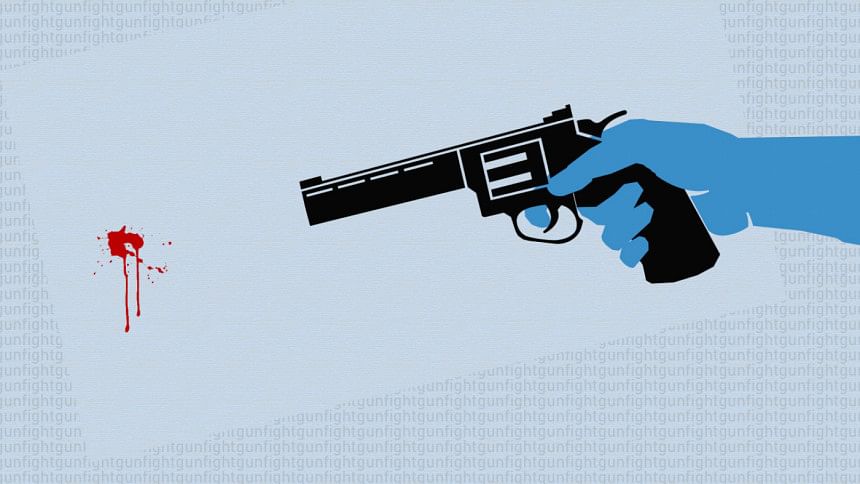 Two drug traders and a robber were killed in separate "gunfights" with law enforcers in Teknaf and Moheshkhali upazilas early yesterday, officers claimed.
Including them, at least 285 people have been shot dead since law enforcers launched a crackdown on drug dealing on May 4 last year.
After most of the incidents, police or Rab said the people killed were drug dealers and they were shot during gunfights or shootouts involving officers.
In Teknaf, Rab said two drug traders were shot dead during a gunfight with officers early yesterday. But Rab could not identify the two men who, according to the officers, were aged about 35 and 38.
Mirza Mahtab Uddin, commander of Rab-7 camp in Teknaf, said they were tipped off about a consignment of yaba being smuggled through Marine Drive Road near the beach around 2:30am.
He added that as Rab men went there, the drug traders sensed their presence and started shooting at them. The Rab men then retaliated in defence.
As the shootout ended a few minutes later, two bullet-hit bodies were found at the scene, he said.
The bodies were sent to Teknaf Upzila Government Hospital morgue for autopsy.
Mahtab added that the Rab team found three firearms, some bullets and 50,000 yaba pills at the scene.
In Moheshkhali, police said a suspected robber was killed in a "gunfight" with police in Shaplapur area early yesterday.
Helal Uddin, 32, was accused in at least 10 criminal cases, said Suvash Chandra Dhar, officer-in-charge of Moheshkhali Police Station.
He added that police were tipped off about Helal and his cohorts were preparing for a robbery in Matarbari area. A police team then went there and arrested him.
Taking Helal along with them, the policemen then went to Shaplapur area to catch other gang members, the OC said.
As police reached there, armed men started to shoot at them. Injured during the gunfight, Helal was taken to a local hospital where doctors declared him dead around 3:30am, he said.
His body was sent to Cox's Bazar Sadar Hospital morgue for autopsy.