5 'robbers' killed in Khulna, Habiganj 'gunfights'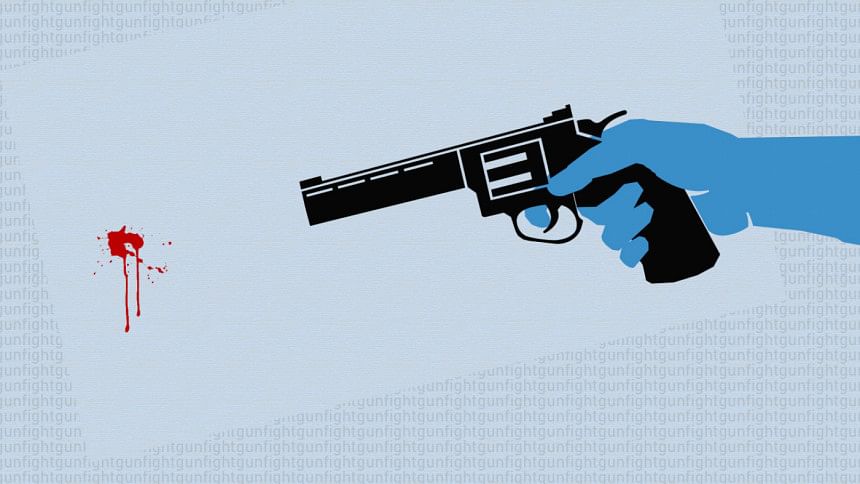 Five suspected robbers were killed in separate "gunfights" with law enforcers in the Sundarbans area of Khulna and Habiganj districts early today.
Six members of Detective Branch of police and Rab were injured during the two 'gun-battles'.
In Khulna, four robbers were killed in a reported shootout with the members of Rapid Action Battalion-6 beside the Shibsha river in the Sundarbans's Khulna range in Koyra upazila.
Two of the deceased were identified as Aminul Islam, chief of the robber gang "Aminul Bahini", and his second-in-command Rafiq, reports our Khulna correspondent.
The elite force members recovered firearms, ammunition and a boat used by the alleged robbers from the scene, SSP of Rab-6 Tofazzal Hossain told the correspondent.
Acting on a tip-off, a patrol team of Rab-6 conducted a drive in the area. But sensing their presence, the robbers shot fires targeting the Rab team, forcing them to fire back, the Rab official said.
When the robbers fled the scene, Rab members found four "robbers" with bullet wounds. They were sent to Koyra Upazila Heath Complex where doctors declared them dead, he added.
Two Rab men were injured during the incident, the Rab official said.
In Habiganj, an alleged robber was killed during a "gunfight" with DB police in Shayestaganj upazila around 3:00am.
Four DB members were injured, Officer-in-Charge (OC) of Shayestaganj Police Station Mozammel Haque told our Moulvibazar correspondent
Deceased Kudrat Ali, 40, of Nizampur union in Habiganj Sadar upazila, was a listed criminal and had 13 criminal cases against him, the OC said.
After receiving information that some 10 to 12 criminals were preparing for committing a robbery in Purashudha area on the Dhaka-Sylhet highway, a team of DB police raided the area, he said.
At one stage, the "robbers" opened fire on law enforcers, prompting them to retaliate, which triggered a "gunfight".
Kudrat Ali was caught in the gunfight while his associates managed to flee the scene, the OC said.