Girl in Satkhira may have tree-man disease
Muktamoni brought to Dhaka Medical College Hospital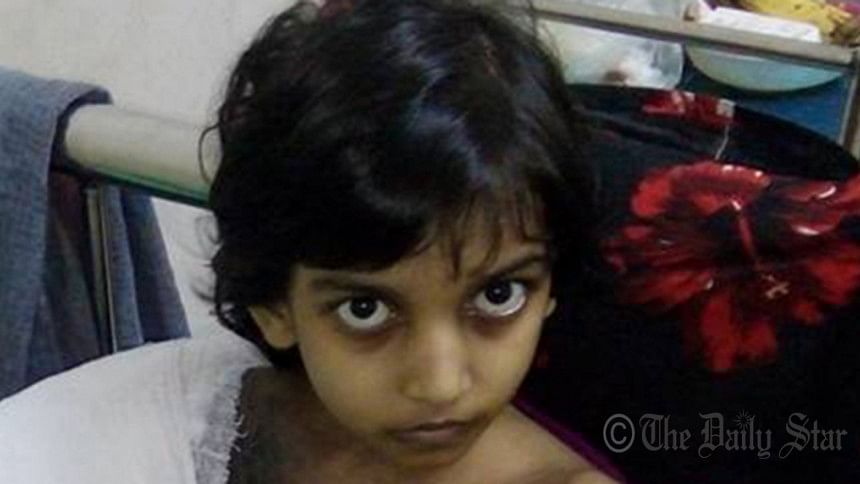 A girl in Satkhira has been discovered suffering symptoms similar to the 'tree-man disease', in which the skin deteriorates to give way to debilitating growths akin to the bark of a tree.
Muktamoni, has been afflicted by the disease mainly in her right hand.
The 12-year-old girl, daughter of a grocery shop owner Ibrahim Hossain of Kamarbaisa village in Sadar upazila, has been passing her days in great suffering due to lack of proper treatment.
Ibrahim Hossain, father of Muktamoni, said his twin girls Hira Moni and Mukta Moni were alright up until they were one-and-a-half year old, but shortly after that a big marble-like growth appeared in Mukta Moni's right hand and continued growing larger day by day.
Ibrahim took his daughter to local doctors but no improvement was found.
He said the weight of the affected right hand of Muktamoni is increasing day by day. She always feels unbearable pain in the affected hand which is infested with parasitic worms.
Doctors said the rare disease has spread through the entire body of Mukta. She is losing weight but her right hand is becoming heavier.
The girl was taken to different hospitals but none could provide proper treatment. Her father has only been dressing the hand at home without treatment for six months.
"I went to many hospitals for the treatment of my daughter. No proper treatment was found anywhere. Now, I am destitute," said Ibrahim, adding that doctors told him that although the disease is rare, there are instances of the disease being treated in Bangladesh.
Recently a 27-year-old man, Abul Bajandar, who became known as the "tree man", underwent surgery to remove the extensive, wood-like warts that covered his hands and feet.
Abul Bajandar, from Khulna, has undergone at least 16 operations at the Dhaka Medical College Hospital free of charge to remove 5kg (11 pounds) of growths from his hands and feet since his condition came to doctors' attention in 2016. His condition and subsequent recovery was covered widely in the media.
Now Muktamoni's father prays for help to the prime minister for taking necessary steps for his daughter's treatment, although her condition might be slightly different to tree-man disease.
Muktamoni said the disease caused an itch and creates great pain, adding that her pain gets more acute during summer and winter.
"I can't go to school or play. I have no joy in my life," said Muktamoni.
Fighting back tears in his voice, Mukta's grandfather (paternal) Ejhar Ali Gazi said the disease started intensifying four years ago. She can now no longer walk, play games or go to school, even stand up.
Mukta's mother Ayesha Khatun said "Mukta is a good singer of gazals but I can't tolerate such condition of my daughter."
She said the villagers, and even their relatives do not visit their house as the affected hand is becoming rotten and emanating bad odor.
Assistant professor of Satkhira Medical College Hospital Dr M Nasiruddin said the disease is rare. It is considered primarily as Hyperkeratosis and it may be associated with skin cancer.
Mukta brought to DMCH
Muktamoni was admitted to Dhaka Medical College and Hospital (DMCH) this morning.
She was admitted to the hospital around 9:30am, DMCH sources said.
A medical board has also been formed to initiate her treatment process.