More snakes in Rajshahi, Satkhira, all 202 killed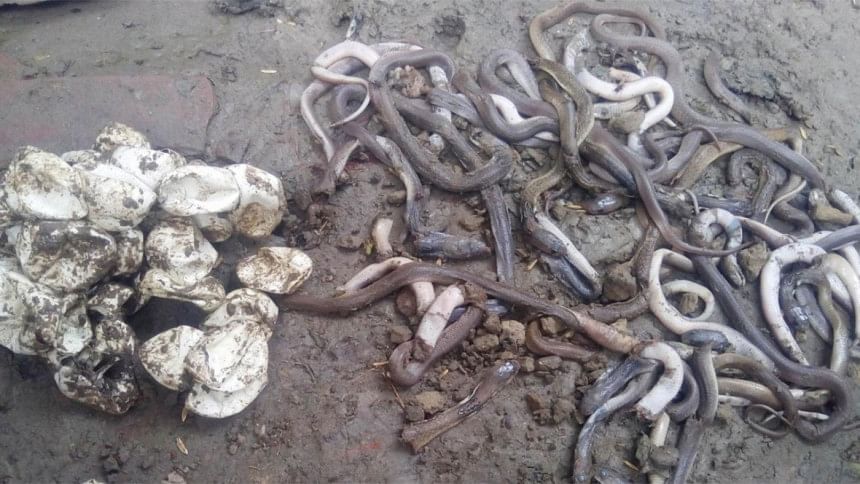 Snake culling spree continues in Bangladesh as 202 more have been killed in the districts of Satkhira and Rajshahi – many of them hatchlings recently born.
In Rajshahi, 125 snakes were found holed in the walls of a kitchen in Tanore upazila – some 26 kilometre off Rajshahi city, reports our local staff correspondent.
House owner Akkas Ali along with his neighbours beat the snakes, each 1 to 1.5 feet long, to death after they came out of the holes around 6:00pm yesterday, said the locals.
They also destroyed over a dozen snake eggs found nearby.
Read More: 27 snakes beaten to death in Rajshahi
In Satkhira, locals killed what they claimed were cobras, 77 of them, after the serpents were found holed up in the earthen floors of two houses in Satkhira.
In Sadar upazila, the snakes were found in the house owned by one Abdus Sattar Khandar, a van puller of Brahmarajpur union, our local correspondent reports.
"My brother lives in an earthen house. Our mother was working at the kitchen yesterday evening and spotted a cobra slithering on the floor," said Abdul Gaffar Khanadar.
The snake was killed instantly, but not before another snake was spotted in the house around 8:30pm. In a search for the source, a burrow was found under the bedroom.
A total of 54 snakes, mostly hatchlings, were unearthed from there. The snakes were killed. They also found 50 eggs, which were destroyed also.
In a separate incident 19 more snakes, believed to be cobras, were killed in Budhata union under Ashashuni upazila yesterday evening which had also holed up in the earthen floor of a house.
Makbul Sarder, spotted the serpents around 7:30pm and called up his neighbours who beat the snakes to death.
There has been panic among the locals after the random discovery of such a large number of venomous reptiles in the locality.