Tree felling rampant at govt forest in Mymensingh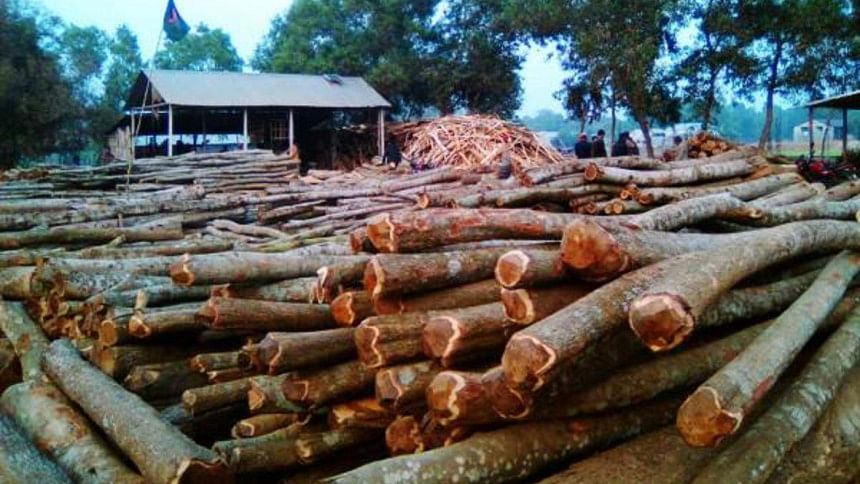 Trees are allegedly being felled in the forests in Bhaluka upazila of Mymensingh district and processed at sawmills located nearby.
Over 50 sawmills are located in the forest areas of the upazila, including 12 adjacent to the National Park at Kadirgrah, locals said.
Having an alleged nexus with a section of officials and employees of the forest department, unscrupulous people have been plundering gazari and akashmoni trees in Bhaluka forest, they said. The destruction of trees has driven away forest wildlife due to loss of their habitats, locals said.
In 2010, the government declared 80.50 acres of land of Kadirgrah and Palgaon areas as a National Park and protected area to save the gazari trees, wildlife and birds from extinction. As part of the afforestation programme, the government also planted akashmoni trees in the forest, sources said.
Meanwhile, some 10 sawmills have been set up by vested groups at Kadirgrah, Kachina, Batajoor, Palgaon, Tamat and Dhakuria villages, within five kilometres of the national park, where plundered trees are being sawed openly. But the concerned authorities have not taken any steps to check the activities, which have been going on for years, it was also alleged.
Taking advantage of the situation, many furniture shops have opened in the area, sources said.
Md Abu Taher, beat officer of Kadigrah Beat in Bhaluka Range, said many people also planted Akashmoni trees in their homesteads for financial gain along with the government.
Md Saidur Rahman, beat officer of Hobirbari Beat, said he had informed the district administration about the illegal sawmills several times, but they are yet to be evicted.
Both officials denied plundering forest trees or there being any involvement of forest staff in the racket.
Admitting the presence of illegal sawmills in the forest area, Md Sakhawat Hossain, assistant land commissioner of Bhaluka, said he conducted a mobile court four months ago and fined a sawmill. Massive drives will be conducted soon to evict sawmills from forest areas, the official said.
Gobinda Roy, divisional forest officer of Mymensingh, said necessary action against the owners of sawmills in the forest area would be taken soon.