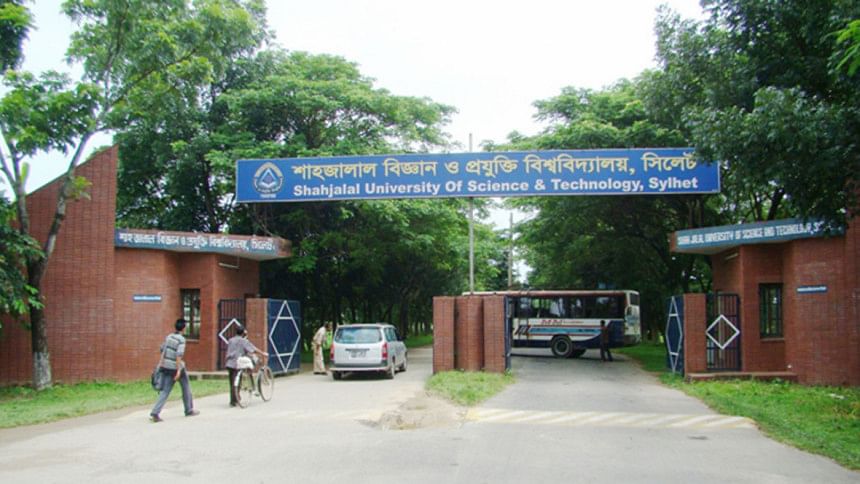 A group of teachers has confined the vice-chancellor of Shahjalal University of Science and Technology (Sust) in Sylhet to his office this morning after he returned from nearly a two-month leave.
Around 50 teachers under the banner of Mahan Muktijuddher Chetonai Udbuddho Shikhok Parishad (MMCSP) locked the door from outside of VC Aminul Haque's office around 8:30am, while he was inside his office.
He was confined till noon when the report was filed, our Moulvibazar correspondent reported quoting Syed Shamsul Alam, convener of the parishad.
The VC went on the two-month leave on April 24 amidst an ongoing teachers' movement demanding his resignation.
The teachers started the demonstration after the VC joined office this morning, a day earlier than the stipulated time, and gave appointment to four posts, Alam said.
The crisis began at Sust on April 13 after the VC allegedly misbehaved with some teachers when they went to talk to him over space allocation between physics and geography and environment science departments.
The teachers launched the movement the same day demanding the VC's resignation.
Later, Prof Dr Syed Badiuzzaman Faruque and Prof Dr Sharif Md Sharafuddin, heads of the physics and geography and environment science department, resigned following the alleged misconduct of the VC.
On April 20, thirty five teachers resigned from different administrative posts protesting his misbehavior with them.
Four days later, the VC went on the leave as per the decision taken in a syndicate meeting.