Protests ripple all over Bangladesh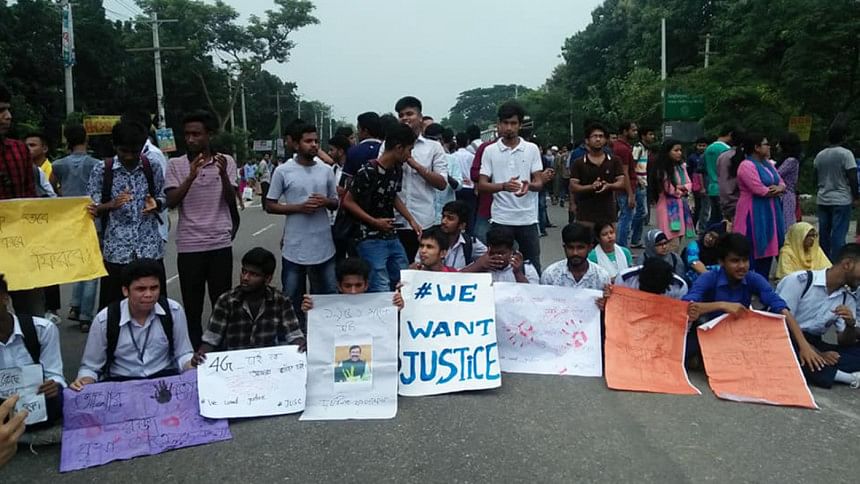 Students across Bangladesh have joined in protests, echoing the demand for safe roads in parallel to those agitating in Dhaka with perseverance. 
In Dhaka, students staged demonstrations since morning at different important intersections and areas in the city including Shahbagh, Science Laboratory, Farmgate, Mirpur, and Uttara, reports our staff correspondents visiting the spots. 
The students continued agitation all day, while also controlling traffic movement and checking driving licence and other necessary documents of the drivers of the vehicles. 
The protest programme at Shahbagh intersection ended around 4:00pm while in Uttara it was called off around 5:30pm. In the other areas the agitations also ended for the day by 6:00pm.  
Meanwhile, students also staged protests in Savar, Narayanganj, Tangail, Natore, Bogra and Rajshahi today, our local correspondents report. Many guardians were seen supporting their children.
In Savar, thousands formed a blockade at Signboard area on Dhaka-Aricha highway in Savar around 12:00noon and continued the demonstration till 3:00pm.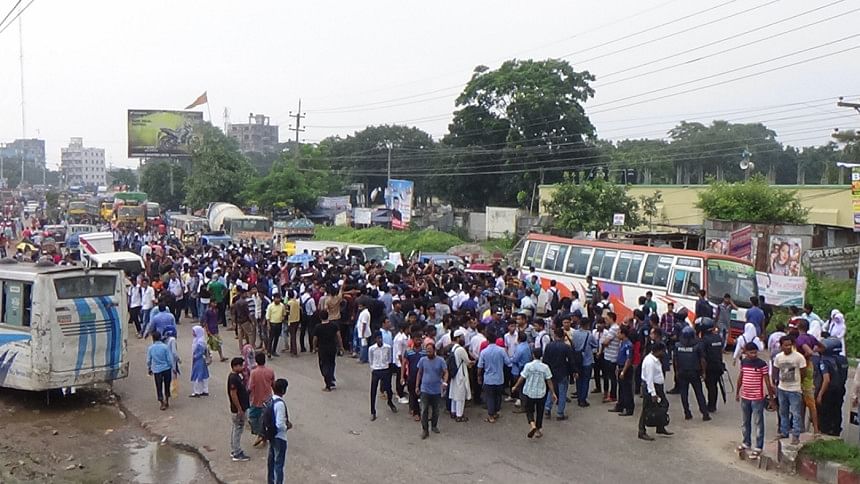 At Tangail, a blockade was enforced in Tangail Sadar around 11:30am which continued for an hour – curbing traffic completely on Dhaka-Tangail highway.
Tangail Police Station Officer-in-Charge Saidur Rahman told The Daily Star that they dealt with the situation with patience. However, a tailback has ensued.
In Chittagong city, traffic movement was suspended at different areas due to student blockade. Some hundreds were demonstrating on a four-kilometre stretch area starting from Agrabad to all the way up to Gate no. 2, our staff correspondent reports.
At Narayanganj, hundreds of students gathered near Chashara Shaheed Minar at city around 10:00am and blocked the intersection – halting all traffic and checking their licenses.
At one point, students halted the car of Kamrul Islam, officer-in-charge of Sonargaon Police Station. Later, the students let the police official's car go on request.
On the other hand, around 500 students blocked the Dhaka-Chittagong and Dhaka-Sylhet highways at Signboard area of Narayanganj's Siddhirganj.
Around 60 Students of Rajshahi University (RU) formed a human chain at 12:00noon on the central library premises demanding safety on roads and expressing solidarity with the agitating students at Dhaka.