No lanterns in Prabarana Purnima this year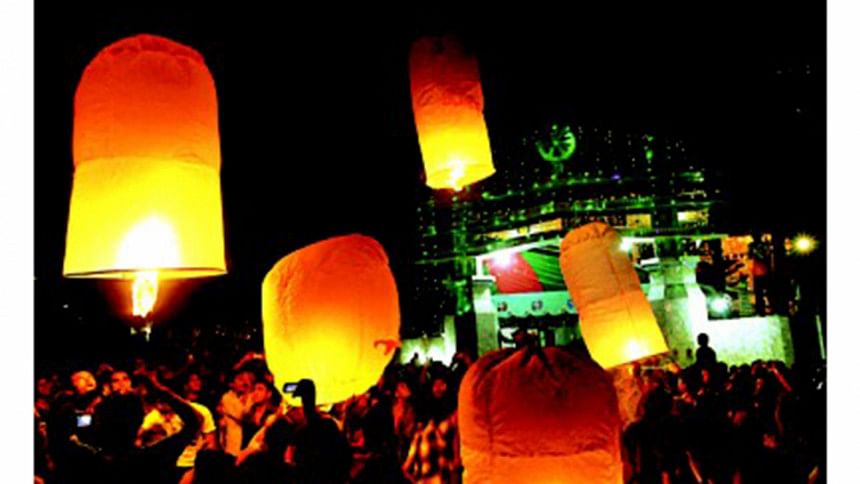 As protest against the atrocities on Rohingyas in Myanmar, Bangladesh's Buddhist community will refrain from flying paper lanterns in Prabarana Purnima this year.
The decision for modesty came in the backdrop of over 400,000 Rohingyas fleeing into Bangladesh to escape persecution by Myanmar military and its Buddhist supporters.
"We will not float paper lanterns in the sky this year," said Ashok Barua, coordinator of Bangladesh Sammilito Bouddha Samaj, in press briefing arranged in Dhaka today.
Floating paper lanterns in the air is a tradition in the observation of Prabarana Purnima, the second largest religious festival of the Buddhists, throughout Bangladesh.
The decision has been made to express solidarity with the Rohingya refugees who are suffering in dire condition and to protest the ongoing atrocities against them, Barua said.
The Buddhist community will be donating the money saved from modest celebration of the Prabarana Purnima to the Rohingya camps in Cox's Bazar.
Prabarana Purnima will be celebrated among Buddhist community in October 5.
The influx was triggered by Myanmar army's response to insurgent attacks on 30 police posts and an army base in Rakhine State on August 25.
According to refugees now sheltered in Cox's Bazar, Myanmar security forces are torching houses, killing unarmed men and raping women.
Human Rights Watch and Amnesty International, analysing photographic and satellite images, said security forces and vigilante mobs are carrying out a scorched-earth policy in Rakhine, burning down entire Rohingya villages and shooting at people as they try to flee.
The rights groups say the atrocity is a targeted campaign to push the Rohingya people out of Myanmar, bearing the hallmarks of "ethnic cleansing".
The United Nations too denounced the "brutal security operation" against Rohingyas in Rakhine State as a "textbook example of ethnic cleansing".