In remembrance of Shaheed Rumi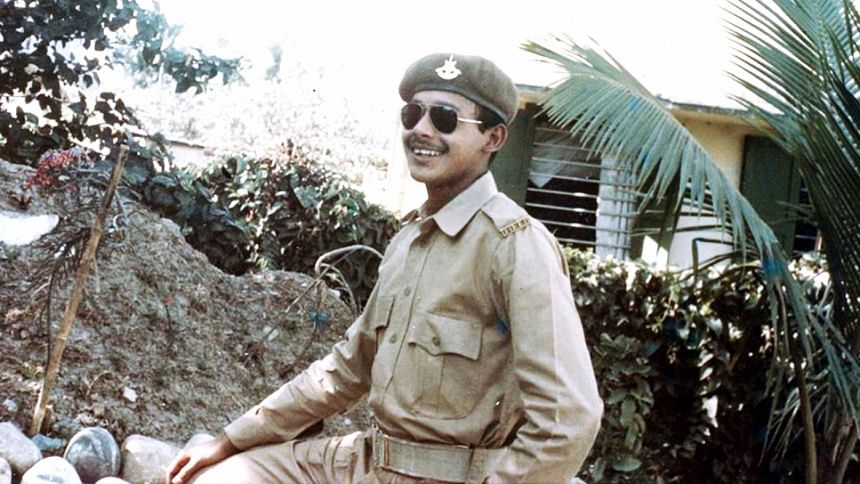 "Do you know what our sector commander Colonel Khaled Mosharraaf always says? He says no independent nation needs living guerrillas. It requires bloody martyrs. So dear mother, we are ready to be those martyrs."
This is how Shaheed Shafi Imam Rumi – the young patriot imbued with determination and passion for Bangladesh's independence – was portrayed in famous memoir Ekattorer Dinguli by his mother Jahanara Imam, who is popularly known as Shaheed Janoni or the martyr's mother.
Today is the 65th birthday of Rumi, a guerrilla fighter who fought valiantly in the Liberation War of Bangladesh. But he will always remain 19 in the eyes of people of the country who know the history of sacrifices of a mere teenager and his family for this country.
In her memoir, Jahanara Imam wrote about herself wondering if actually there was ever somebody named Rumi. Not seeing her precious son for 48 days made her feel as if Rumi was a phantom who did not really exist.
The heart touching chronicle by Jahanara Imam takes the readers back in the time. Her family becomes our family. Rumi takes different roles for different people – a brother, a son, an inspiration. For me, Rumi becomes the ghost of the urban war for a country's liberation, a teenager, conscious about the purpose of his existence with resolution to fulfill the purpose, ready to materialise what he believes in, almost too good to be a 19 -year old, too good to have existed. He becomes an epitome of how youth should be and what they can do for a whole nation.
When Rumi tells his mother how hard it was to get food let alone proper food in Melaghor, the place of his training, our eyes fill with tears imagining a persnickety boy as him, as his mother describes him to be, gladly going through all these struggles without any complaint.
Jahanara says Rumi always wanted to become a guerrilla, he once wanted to join the Palestinian Liberation Army. When his own people and his own motherland fell the victims of oppression and massacre at the hands of the infamous Pakistani military, he knew being a guerrilla was in fact his fate.
He did not let his mother take photograph of him in beards and long hair, just like a true guerrilla fighter.
Rumi was born on March 29, 1952 in the higher middle-class family of Jahanara and Sharif Imam. He was 19 years old and just out of college when he decided to join the war. He had a bright future ahead of him. He stood third in HSC in the Pakistan Education Board in March of 1971 and got admitted in the then top most engineering institute of the region now known as BUET. He was also enrolled into the Illinois Institute of Technology but decided to stay back and fight for his country.
According to Jahanara Imam's memoir, Rumi, despite his mother's reluctance, managed to take permission to go to war. He took guerrilla training at Melaghar, Agartala under Sector-2. It was the sector supervised by Khaled Mosharraf and Rashid Haider.
After his training, he came to Dhaka to join the Crack Platoon, a group that conducted major guerrilla operations against the Pakistani Army. Rumi participated in major guerrilla operations inside Dhaka as well, which were important breakthroughs from our side. His major target was to bomb the Siddhirganj Power Station. Rumi participated in hit and run attacks, including the shooting of police guards outside a house Dhanmondi Road No. 18 that led to his capture, detention and demise.
In the Dhanmondi operation, Rumi and his friends carried out a successful assault on the Pakistanis, shooting and killing soldiers from the back window of a black Morris Oxford and then giving the pursuers the slip.
Rumi was captured by the Pakistani Army on August 29, 1971 from his home in Dhaka. His father, younger brother and a cousin were also arrested with him by the oppressors, led by one Captain Quayyum, according to the memoir of his mother. Rumi with other co-fighters Bodi and Jewel were arrested the same night, and were never found. They became one of the hundreds of thousands of people massacred by the military. 
Rumi and co-fighters had been acting as the key masterminds of Dhaka metropolitan oriented guerrilla warfare till that date.
On July 17, 2013 Ali Ahsan Mohammad Mojaheed was found guilty and received life sentence on charges related to the killing of Rumi along with Badi, Jewel, Azad and Altaf Mahmud at the army camp in Dhaka's Nakhalpara during the Liberation War.