RMG workers block road, vandalise 20 vehicles in Ashulia
10 hurt as cops charge batons, use water cannon to disperse them
--20 vehicles damaged
--10 injured
--Workers of 29 factories join protest
--Police charge batons, use water cannon to disperse workers
--Eight platoon BGB deployed in Ashulia
--Traffic return normalcy on Dhaka-Tangail highway around 11:45am
Ready-made garment workers vandalised at least 20 vehicles on Dhaka-Tangail highway in Ashulia, on the outskirts of Dhaka, this morning while staging demonstration in protest against the disparity in their new wage structure.
Nearly 10-15 people were injured when police charged batons and used water cannon to disperse the protesting workers around 11:00am, our Savar correspondent reports quoting witnesses.
Some of the passengers were also injured when the workers threw brick chips targeting the windows of the vehicles.
While talking to our correspondent, Officer-in-charge of Ashulia Police Station Rezaul Haque, however, claimed that the agitating workers damaged at least six to seven vehicles on the highway.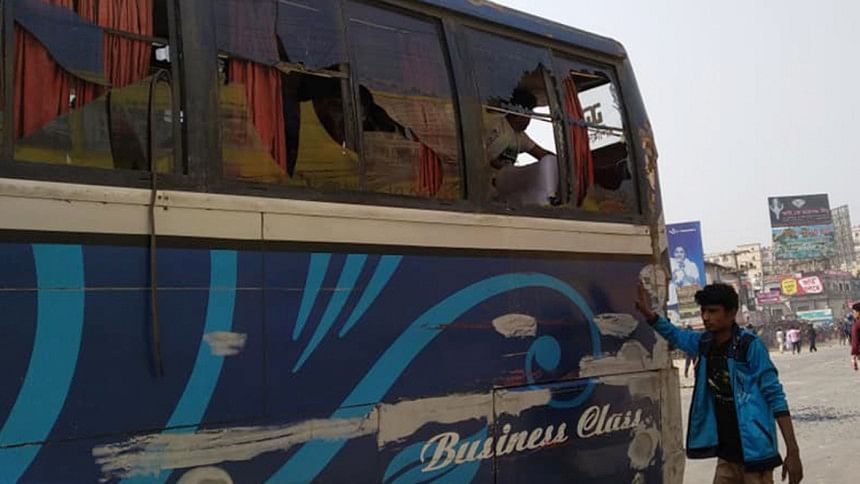 Earlier around 9:30am, hundreds of workers of several garment factories including Windy Apparels Lt and Styling Creation Ltd took to the streets in Jamgora area of Ashulia for the sixth day, halting traffic movement on the highway.
Police dispersed them by charging batons and using water cannon around 10:00am but the garment workers again blocked the highway around 10:45pm.
The law enforcers managed to free the road around 11:45am, our correspondent reports quoting police.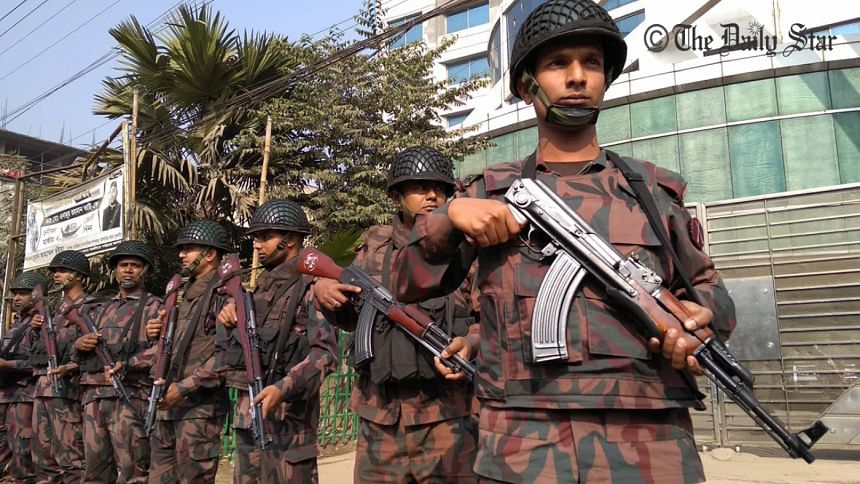 The demonstrators were staying demonstration in front of their respective garment factories when the report was filed this noon. 
Sana Shaminur Rahman, superintendent of Dhaka Industrial Police-1, told our correspondent that workers of nearly 29 garment factories of Ashulia and Savar areas jointly waged today's demonstration. 
Eight platoons of Border Guard Bangladesh (BGB) has been deployed in the areas to maintain the law and order situation.    
WHAT ARE THE WORKERS DEMANDING?
The workers have alleged that the monthly wage in the seventh grade increased to Tk 8,000 from Tk 5,300 as per the latest gazette published by the government last year. But, the salary of the workers in other grades did not increase at the same rate.
The salary hike for the entry-level workers was more than that of their senior operators, who have been working for more than seven to eight years. The new wage has been effective from December 1. Major disparity in the salary hike was noticed in the third and fourth grades as their salaries were not raised like that of entry-level workers.
In most of the grades, other than the seventh, only Tk 500 was raised in the new salary structure, whereas an entry-level worker's salary had increased by Tk 2,700 at one go.     
WHAT DID THE TRIPARTITE BODY SAY ABOUT THE WAGE STRUCTURE?
The tripartite committee formed to resolve the labour unrest in garment industry has found disparity in three grades of the workers' pay structure, and has started working to minimise the wage gap that sparked the protests five days ago. 
The 10-member committee with representatives from the government, union leaders and factory owners said disparity was found in grades three, four and five.