Rana Plaza: Charge framing hearing Jul 8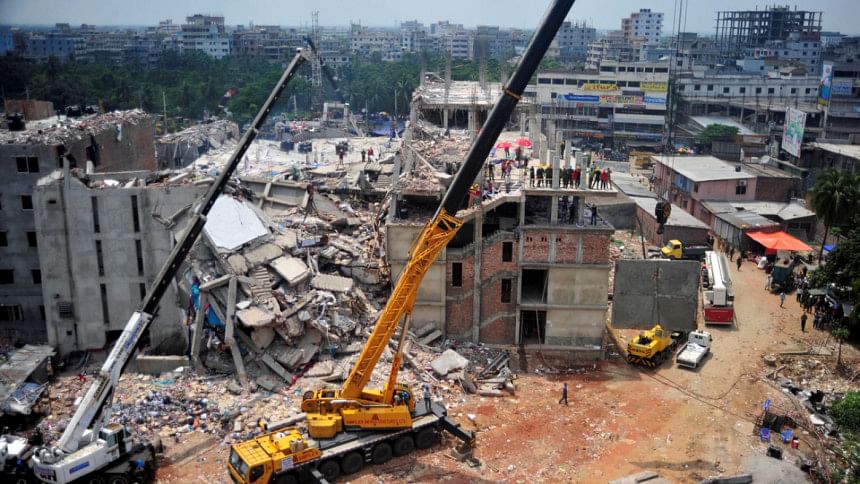 A Dhaka court today set July 8 to begin the hearings on whether charges will be framed against 42 people including Sohel Rana in two cases over Rana Plaza collapse.
The court also issued a show cause notice to Kasimpur prison superintendent on why Sohel Rana was not produced during proceedings today.
Senior Judicial Magistrate Shahinur Rahma passed the orders.
Additional Public Prosecutor Anwarul Kabir Babul appealed to the court for a show cause notice accusing negligence of the jail authorities in this regard.
Rana Plaza caved in on April 24, 2013, and buried alive at least 1,1136 people, mostly workers of the garment units housed there – what was the worst workplace disaster of the century.
More than two years after collapse, police on June 1 pressed murder charges against 42 people, including the building owner Sohel Rana, for alleged roles in the disaster.
In the charge sheets, the criminal investigation department (CID) mentioned 724 people as witnesses to prove the cases.
Following the incident, three cases were filed -- one for building code violation, one for culpable homicide and the other for murder.
The murder case, filed by the widow of victim a -- Jahangir Alam -- was initially tagged with the homicide case. During the probe, however, the homicide case was converted into murder case.