Rampage over Hindus in B'baria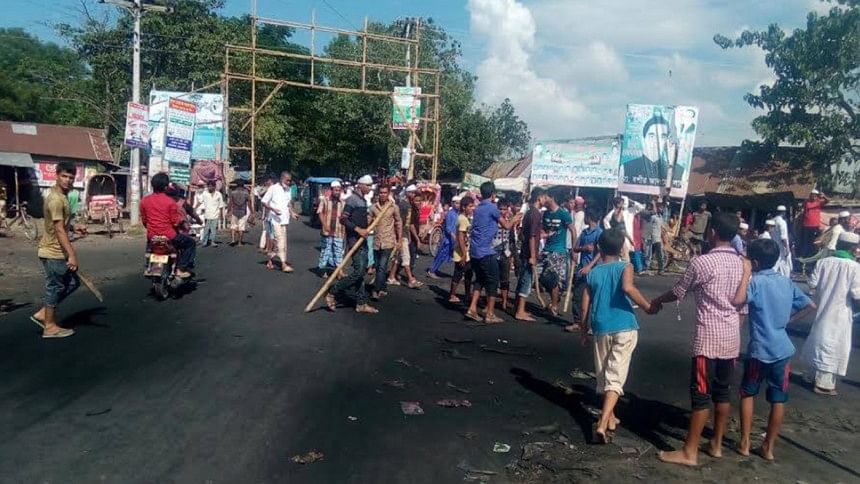 Miscreants vandalised and looted at least 10 Hindu temples in Brahmanbaria's Nasirnagar this afternoon along with hundreds of houses of the Hindu community.
Nasirnagar Upazila Nirbahi Officer (UNO) Chowdhury Muazzam Ahmed told The Daily Star that the rampage began around 1:30pm after a Facebook post a few days ago.
Protesting the Facebook post, a group of people staged two separate demonstrations at the upazila headquarters today, during the festivities of Diwali.
Nasirnagar Puja Committee's General Secretary Khailpada Poddar alleged that at least 15 Hindu temples were vandalised and looted. "200 Hindu houses were ransacked and looted."
Brahmanbaria police Superintendent Mizanur Rahman told The Daily Star that around 150 to 200 people launched the attacks and vandalised at least seven to eight idols of five temples in the area.
Two people were injured in the attacks while six people were detained, he added.
Police took control over law and order in the area around 2:00pm, the police official said. A raid was underway to nab the culprits, last reported.
"A group of Hefajat-e-Islam attacked on the Hindu community and vandalised their houses and temples while we were holding peaceful rally," said Riazul Karim, convener of Nasirnagar unit of Ahle Sunnat Wal Jamaat.
A huge number of law enforcers from different agencies including police, Rapid Action Battalion (Rab), and paramilitary Border Guard Bangladesh (BGB) were deployed in the area.
The law enforcers will remain deployed until the situation cools down to normal, Maj Abu Saeed, captain of Rab-7, told the correspondent.
Our correspondent visited a dozen temples and confirmed the vandalism.
Abdul Kader, officer-in-charge of Nasirnagar Police Station said the attacks spread in Kashipara, Ghoshpara and Dashpara areas and many other places soon.