PM announces to abolish quota system in public service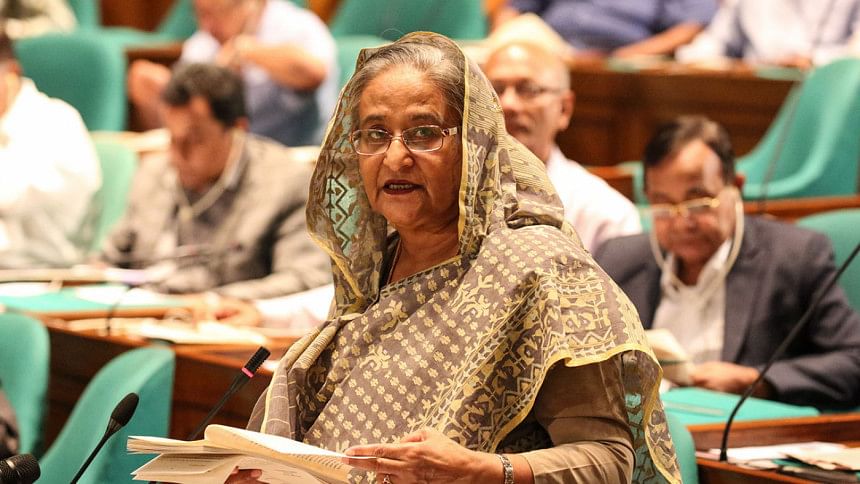 --All sorts of quota to be scrapped
--Spl arrangement for minorities, physically challenged
--Agitating students asked to return classes
--DU VC's residence attackers not eligible to be students
--Attackers to face music
Prime Minister Sheikh Hasina today announced to abolish

all sorts of quota privileges

in the public service amid students' nationwide demonstration demanding reforms in the recruitment system.
"The quota system will be scrapped as the students do not want it," the premier said while addressing at the parliament this afternoon.
The prime minister's announcement came amid demonstration of students across the country demanding reformation of the quota system. The students of public and private universities across Bangladesh have been demonstrating to press home their demand since Sunday.
Sheikh Hasina however said the government will make a special arrangement for ethnic minorities and physically challenged people in the public service recruitment system.
Hasina said she wants to scrap all sorts of quota privileges to avert repeated movement of students and public sufferings. "We don't want that students will stage demonstration again and again boycotting their class and examinations for the quota reform," Hasina said.
"If the quota system is reformed, another group will come up with demand for quota reform again. So, the quota system should be abolished, I think," she said replying to a supplementary question by Awami League lawmaker Jahangir Kabir Nanak in the House.
She also urged the students to return their classes withdrawing the demonstration.
About the attack at Dhaka University vice chancellor's residence on Sunday, she said no student can carry on such attack on their teachers.  "The attackers are not eligible to be students," she said.
The premier also gravely condemned the attack on the residence of Dhaka University vice chancellor and said the attackers must face music. "We cannot accept such big crime."
The law enforcers have already started investigation to find out the attackers, she said.