Poverty forces fishermen to defy ban
Netting hilsa continues as govt support for them not enough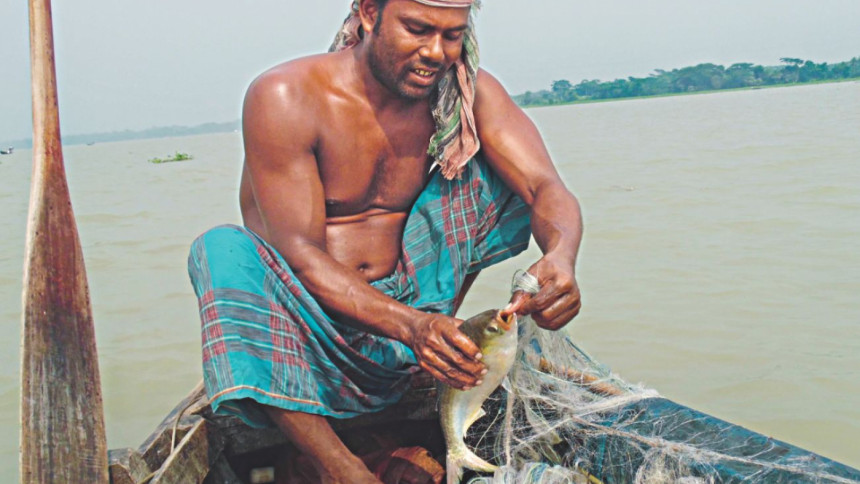 Poverty forces hundreds of fishermen of Barisal division to catch hilsa fish during the ongoing ban, despite the aid given by the government, which is not sufficient to meet their needs.
Every day, many mobile courts are operated by the fisheries department with the help of police and administration, and they have fined or jailed hundreds of fishermen, according to the information given by the fisheries departments of Jhalakathi, Barisal and Bhola. 
Hilsa catching is suspended from October 1 to October 22 to facilitate breeding of the popular fish.
During this time, they have been offered help by the government, but that is insufficient for the large number of fishermen, many fishermen of Jhalakathi, Barisal and Bhola said.
As many as 2,27,943 fishermen are getting government aid out of 3,16,044 registered fishermen in the division during the ongoing ban, said Md Bazlur Rashid, director of the fisheries department of Barisal division.  
"I have to pass my days in hardship during the ban period as there is not enough food in my house," said Md Delowar, a fisherman in Nalbunia of Nalchhity, who did not get any kind of help from the government.
"I need three kg of rice and other necessities every day, but I will get only 20 kg of rice for the 22 days. If I don't go fishing, my family members will starve," said a fisherman of the same area, adding that he gets help from the government, but not at the right time.
"Hilsa fishing is the only way of earning my livelihood, so I am bound to do it during the ban period for my survival," said Jakir Hosain, a fisherman of Ilisha area in Bhola Sadar.
"We cannot go for fishing, which is the only source of our income. We cannot arrange food for our children. How can we survive when most of us have to pay the instalments on the loans that we took at high interest rate from microcredit banks or money lenders?" added Jakir.  
"If we get government help during the ban period, it can benefit us a lot," many fishermen said.     
"Every year, the government helps the fishermen during the ban, but they have not received help as yet this season," said a member of Nalchhity Upazila Parishad.  
"I have got 13 cards for distribution among 13 families, while there are 35 families in my ward," said union parishad member Nurul Alam of Nalbunia under Ranapasha union in Nalchhity. 
"The allotted government aid has not yet reached the fishermen, but it will be given very soon," said Fisheries Officer of Rajapur in Jhalakathi Mukta Rani Sarkar.  
"We are making special identity cards for the fishermen so that we can help them all," she added.