Waterlogging hampers classes at primary school
Kids facing the situation from April to early November every year since 2010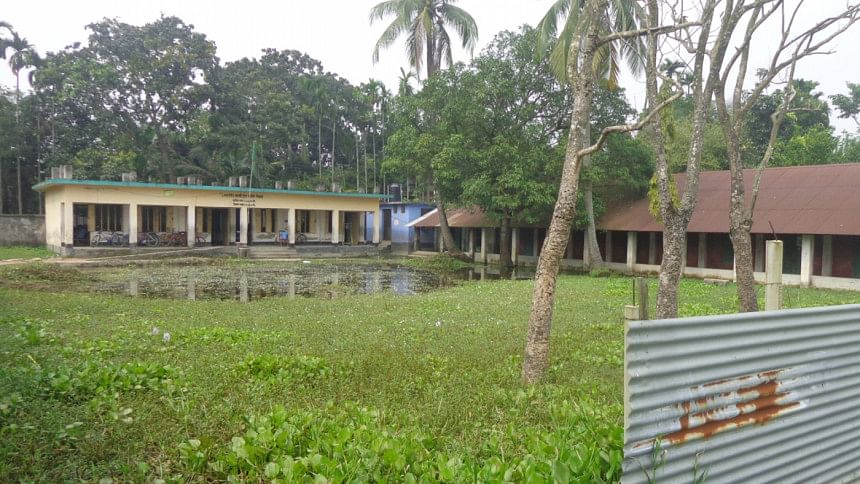 Academic and extra-curricular activities at Bogabaid Government Primary School at Bogabaid village under in Jamalpur municipality are badly hampered due to shortage of classrooms and waterlogging in the school ground.
The school, around one and a half km from the town, has been facing the situation from April to early November every year since 2010, thanks to the indifference of the authorities concerned.
The school has two houses -- a two-room tin-shed built in 1974 and a two-room concrete building constructed in 2005.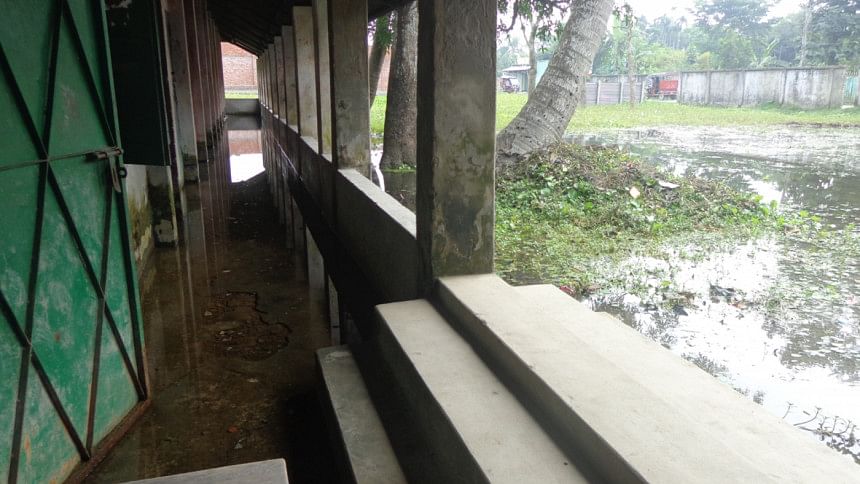 "Water from the school ground enters the low-lying floor of the tin-shed, making it unfit for classes. Only two rooms of the concrete building are used for conducting classes for 427 students from pre-primary to Class V in three shifts," said assistant teacher Shahida Yasmin.
Students of pre-primary and Class I attend classes in the two rooms from 9:30am to 11:00am, students of classes II and III from 11:00am to 12:50pm and students of classes IV and V from 1:00pm to 4:15pm with a 30-minute break, said Farzana Choudhury, another teacher.
"Due to the situation, students get around 25-minute-long classes, instead of stipulated 40-minute ones. Nine teachers of the school struggle to complete the syllabuses and kids are deprived of proper lessons from the short classes," said school headmaster Royena Begum.
"Rainwater remains stagnant on the ground for around seven months every year due to lack of drainage. As a result, the kids' assembly cannot be held and they cannot move around or play during the recess.
"The school needs another building and arrangement of drainage of water from the school ground to ensure proper education with co-curricular activities for the kids. We informed the higher authorities concerned about the matter several times, but to no effect," Royena said.
District Primary Education Officer Mohammad Amirul Islam said his office sent a proposal to the higher authorities concerned to build another concrete building to solve the accommodation problem of the school last year.
"I will talk to the mayor of Jamalpur municipality to arrange drainage to remove stagnant water from the school ground," he said.