The tale of three siblings
Sowing seed of hope even in the face of dire poverty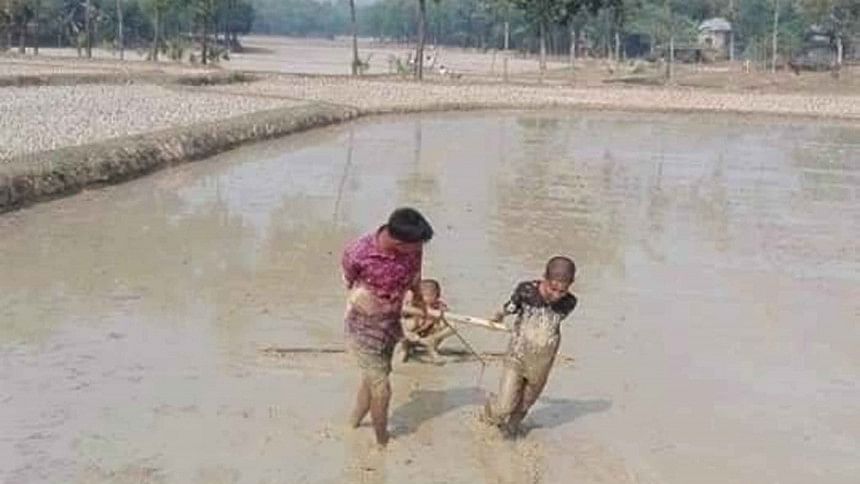 Long ago, paddy growers used to conduct land levelling employing a levelling board drawn by a pair of cows to catalyze the yield of crops. In modern days, equipment in place of cows to level the ground has often been in practice. But, what seems to be the rarest sight is the one where two boys, in place of cows, do the same job. They draw the levelling board with another boy poised on it.
They produce rice on a piece of arable land that they don't even own, and that too without a cow that could ease their job. Despite poverty taking them to that level, the siblings are not missing out on the school education in a remote area where most people are day labourers, rickshaw-van pullers, house helps, tea vendors, and peasants by profession.
This is the story of Arafat Sunny, 14, Shakil, 7, and Sayeem, 5, sons of tea stall owner Tofazzal Hossain of Tengra Uttarpara village in Gazipur's Sreepur upazila.
Sunny is a student of Class IX of Alhaj Nawab Ali Adarsha High School while Shakil is a sixth grade from a local Hafazia madrasa and Sayeem is a student of Class I of Tengra Government Primary School.
At the early stages of life when most children pass a carefree life, they are leaving no stone unturned to make their ends meet, said their mother Fatema Khatun, who is a housewife.
As their father's income is too little to run the family, the kids got diehard to do something for the family, she said.
"Initially, we planned to produce crops. But we did not own any land. One year ago, my mother took the lease of 35 decimals of land from one of our neighbors spending Tk 70,000 the amount she saved over long," said Sunny.
"But we had neither experience nor any kind of instrument to cultivate lands. But we did not sit idle. With the guidance of some elderly farmers and my mother, we prepared paddy seedbed near our residence," he said.
"We hired a tractor for Tk 2000 to make our land arable. When the seedlings grew, we planted them on the land. We don't have any cattle to plough the land," he said.
"Following ancient traditional method, we used a ladder and one of our brothers sat on the ladder. Then we, the rest two brothers, pulled the ladder to level the land," he added.
"Finally, our dream came true. Our paddy plants started growing," said Sunny.
In the first phase, they harvested their crops in October. Then, they restarted their journey targeting the second phase. Again, they planted paddy last week.
Fatema said, "My three sons are very young. But they are working hard to produce crops."
"It is very surprising that they have realized the reality at a very early stage of their lives. I am proud of them," she added.