Scarcity of drinking water changes life pattern in hills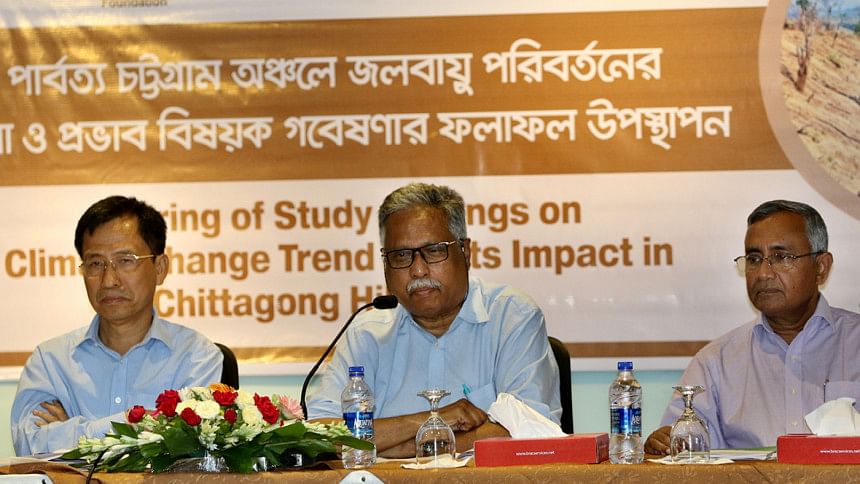 Scarcity of fresh drinking water is a major challenge for people living in the country's hilly region, according to a Manusher Jonno Foundation commissioned report.
Due to the scarcity of the drinkable water, the women in the hill area have to spend more time and travel extra mile every day for collecting the water bringing change in their daily activities, the report said.
Findings of the report "Climate Change Trends, Situation and Impacts in Chattogram Hill Tracts (CHT) of Bangladesh" were disclosed at a programme at the capital's BRAC Centre Inn today.
Citing the report, Md Nadiruzzaman, an assistant professor of Independent University, said the recent environmental change caused the scarcity of food from natural sources in the hill area.
As a result, the women in the hill area have to walk an extra mile for collecting food, water and other daily essentials, he said.
Nadiruzzaman, who was commissioned to prepare the report through analysing satellite data, claimed to have found that the dry spell during monsoon has increased in Bandarban district, while it decreased in Rangamati and Khagrachhari districts. 
If monsoon dry spell increases it can affect crop cultivation negatively, he added.
The report was prepared based on data collected from six upazilas, two from each of the three CHT districts-- Rangamati, Bandarban and Khagrachhari.
A survey was conducted on around 400 households while the research team also organised some focus group discussions.
According to the report, landslide appeared to be worst environmental risk for hill people.
Deforestation, jhum cultivation, commercial logging and hill cutting have turned hill slopes weaker, it said.
Addressing the programme, noted climate expert Ainun Nishat said if the temperature increases, it will greatly harm crop cultivation in the hilly region.
On the other hand, change in weather will increase frequency of cyclone, which will result in excessive rainfall in the hill region.
Subsequently, this will increase possibility of landslide in the hills because vegetation there has already been reduced, he added.
MJF Executive Director Shaheen Anam said the hill people has been forcibly displaced and their lands have also been grabbed illegally, while they are also facing disasters like landslide.
"There are laws related to forest and environment in the country. Aren't these laws effective there?" she asked.