If kids aren't safe at home, where will they be?
Study reveals a disturbing picture of child abuse in Bangladeshi households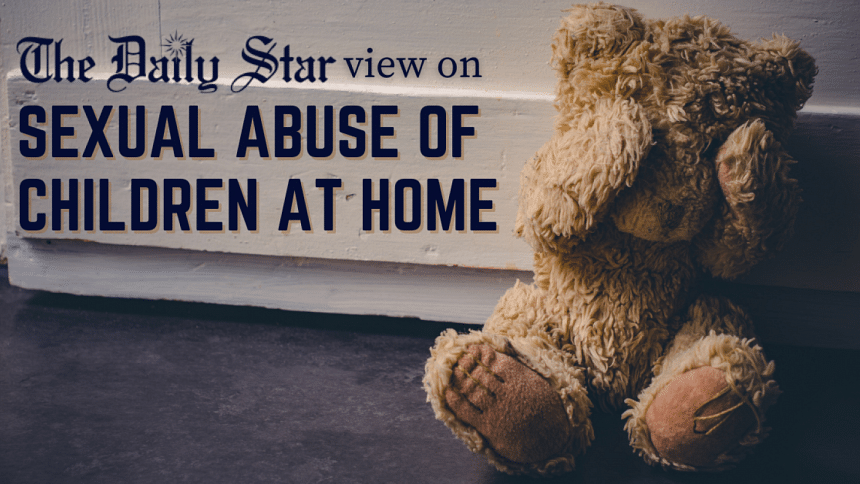 The non-profit Manusher Jonno Foundation (MJF) has come up with a shocking revelation that about 95.8 percent of children in the country are victims of violence in their own homes. This is more than the violence they face in their educational institutions or at the community level. A whopping 86.9 percent of the children surveyed said they had faced physical violence in the name of punitive action within the households. What's more shocking is that around 81 percent of guardians were found to be supportive of physical punishment when a child is disobedient. This situation is worrying, to say the least, and if we cannot change the mindsets of parents and guardians towards children, it will have long-term detrimental effects on their wellbeing.
Children in Bangladesh face various forms of violence; sexual violence is the cruellest of them. Organisations working on child rights have done various studies and surveys that reveal a horrendous picture of sexual abuse in the country. A majority of children become victims of sexual abuse by close relatives or neighbours. The MJF survey also found that 55 percent of children face sexual violence at home. Moreover, the percentage of children facing emotional, physical and sexual abuse at schools and colleges as well as workplaces for working children is also quite high, according to the study.
The children surveyed by MJF said they did not report these issues to their parents because they were afraid of being judged. This indicates the sheer lack of awareness among parents in general about the issue of child abuse inside households. If children have to hide incidents of abuse or violence from their parents – who are supposed to have their best interests in mind – how will they learn to speak up if/when they face such things outside their homes?
Therefore, in order to ensure a safe environment for children, we must take a firm, united stand by involving families, communities, schools, as well as all sections of society. While the country's elected representatives must ensure that child rights are protected by implementing the relevant laws, the agencies and organisations working on child rights must also play their part by forming community-based committees, appointing social workers and volunteers in the communities to raise awareness of the issue and the need to protect children. It is only through proactive and well-focused measures that we can ensure a safe environment for children everywhere.