Nusrat murder indictment hearing June 20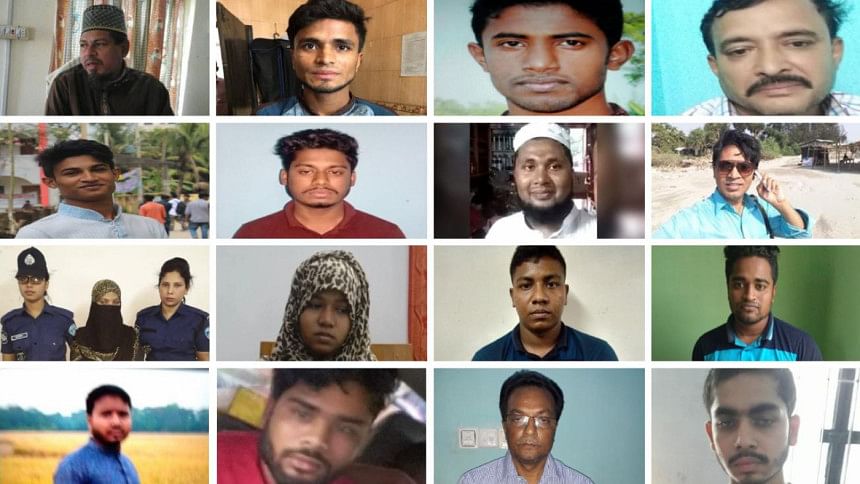 Charge framing hearing in the much talked about murder of Feni madrasa student Nusrat Jahan Rafi has been slated to begin from June 20.
A local tribunal set the date today after accepting the charges pressed by Police Bureau of Investigation (PBI) against 16 accused, our local correspondent reports.
Feni Women and Children Repression Prevention Tribunal Judge Mamunur Rashid acquitted five others accused who were not mentioned in the charge sheet.
Plaintiff's lawyer M Shahjahan Saju confirmed The Daily Star of the development.
TOTAL 16 ACCUSED CHARGED FOR NUSRAT MURDER
PBI on May 29 pressed charges against 16 persons including the prime accused Siraj-Ud Daula, the madrasa principal.
Of the 16 accused, 12 have already given their confessional statement before magistrate, according to the police. Ninety-two witnesses have been included in the 772-page charge sheet.  
The other accused are Nur Uddin, 20, Shahdat Hossain Shamim, 20, Maksud Alam alias Moksud Al councilor,50, Saifur Rahman Mohammad Jobayer, 21, Jabed Hossain alias Sakhwat Hossain Jaber,19, Hafez Abdul Kader, 25, Afsar Uddin,33, Kamrun Nahar Moni, 19, Umme Sultana Popy alias Tuhin alias Shampa alias Champa,19, Abdur Rahim Sharif, 20, Eftekhar Uddin Rana, 22, Imran Hossain alias Mamun, 22, Mohammad Shamim, 20, Ruhul Amin,55, and Mohiuddin Shakil,20.
HOW WAS NUSRAT MURDERED?
On April 6, she was set afire at an examination centre of Alim examination allegedly by students loyal to Principal Siraj Ud Doula of Sonagazi Islamia Senior Fazil Madrasa after he was arrested and subsequently suspended as Rafi had accused him of sexually harassing her.
After fighting for her life for five days, Nusrat succumbed to her injuries at Dhaka Medical College Hospital (DMCH) in the capital on April 10.