Murder accused among 2 killed in separate gunfights in Sylhet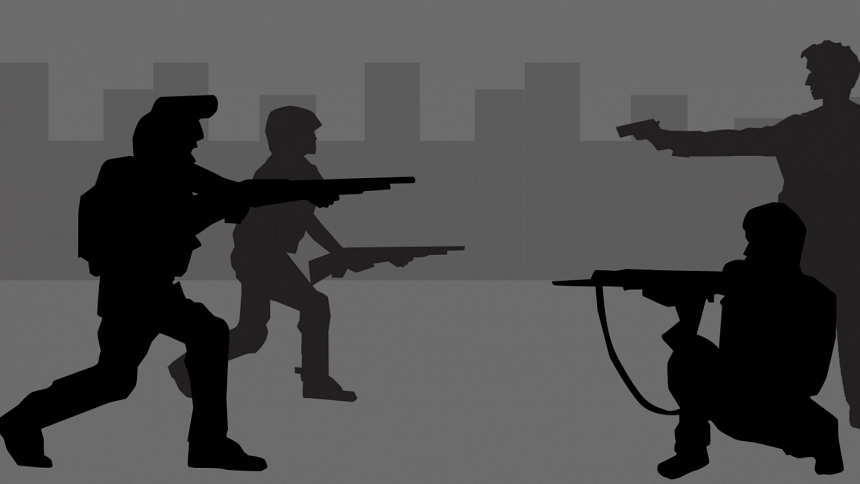 Two people were killed in separate "gunfights" with law enforcers in Golapganj and Bishwanath upazilas of Sylhet earlier today.
One of the deceased was identified as Ali Hossain (40), an accused of five cases including murder in Golapganj upazila, while police could not ascertain the identity of the person killed in a gunfight with police in Bishwanath upazila.
A team of Rab-9 launched a drive at Kadupur in Golapganj upazila early hours of today to arrest the alleged terrorist Ali Hossain, said M Samiul Alam, media officer of the battalion.
Sensing the presence of the Rab team, Ali and his cohorts opened fire on the law enforcers, forcing them to retaliate—triggering a gunfight, the Rab official said.
At one stage, Ali was caught in the line of fire and died on the spot, he said.
The elite force members managed to arrest five cohorts of Ali Hossain from the spot, Samiul said.
A member of the Rab team was injured in the gun battle, the Rab official added.
Meanwhile, an unidentified man was killed in another reported gunfight with police in Bishwanath upazila around 3:00am. Police claimed that he was a member of a robbers' gang.
Shamim Musa, officer-in-charge of Bishwanath Police Station, said a police team conducted a drive in Marampur-Surirkhal area after receiving information that a gang was preparing to commit robbery in the area.
Members of the gang opened fire and targeted the law enforcers, the OC claimed.
As police retaliated in defence, a gunfight ensued, he added.
At one stage, one of the robbers died on the spot and others managed to flee the scene, the OC said.
Three policemen were also injured in the gunfight, the police official claimed.