Teknaf human trafficker killed in gunfight: Police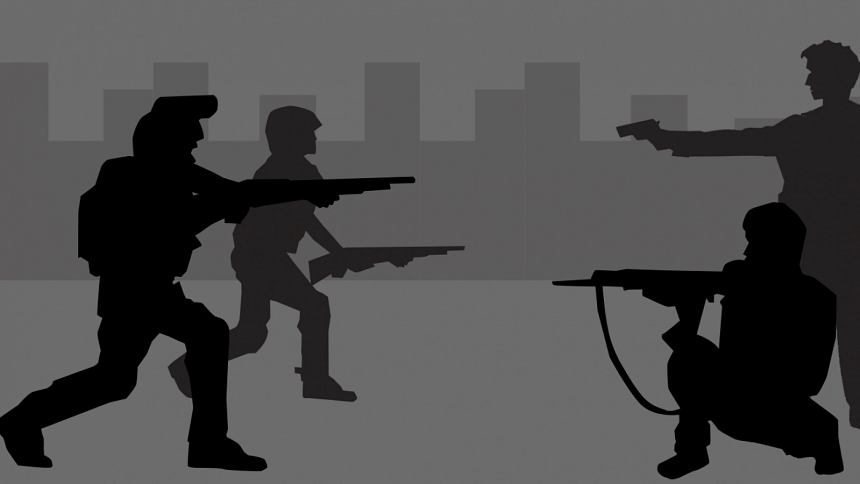 An accused in three human trafficking cases was killed in a "gunfight" with police in Teknaf, Cox's Bazar earlier today.
The deceased -- Abdus Salam, 30, of Noakhalipara in Teknaf -- was one of the main accused in a human trafficking case filed over the incident of a trawler capsize near St Martin's Island that killed at least 21 Rohingya refugees recently.
The "gunfight" took place on the foot of a hill near Salam's house at around 4:00am, our Cox's Bazar correspondent reports, quoting Pradip Kumar Das, officer-in-charge (OC) of Teknaf Police Station.
Acting on a tip off, a team of police went to the area to arrest Salam and his cohorts, who were holding a meeting there, said the OC.
Sensing police presence, miscreants opened fire on the law enforcers and injured three cops, he said.
In self-defence, police retaliated with gunshots, until the miscreants fled at one point, the official said.
After they escaped, police found bullet-hit Salam and rushed him to the upazila health complex, Pradip said.
Later, he was shifted to Cox's Bazar General Hospital, where doctors declared him dead, the OC added.
The police officials injured in the gunfight received primary treatment, he said.
A locally made gun, ammunition and empty shells were recovered from the spot and a case was filed in this regard with Teknaf Police Station, the official said. 
Salam was absconding as he was accused in three human trafficking cases, he added.
At least 15 Rohingya refugees died when a trawler capsized in the Bay of Bengal near St Martin's Island while trying to go to Malaysia illegally, Bangladesh Coast Guard officials said.
Six more bodies were recovered from the Bay later as well.
The bodies that were recovered were aboard the trawler, Pradip told The Daily Star.
Apart from the victims, 72 people, including four boatmen, were rescued, while 50 others are feared missing.