Gun attack on Rab at Rohingya camp: Key suspect killed in 'gunfight'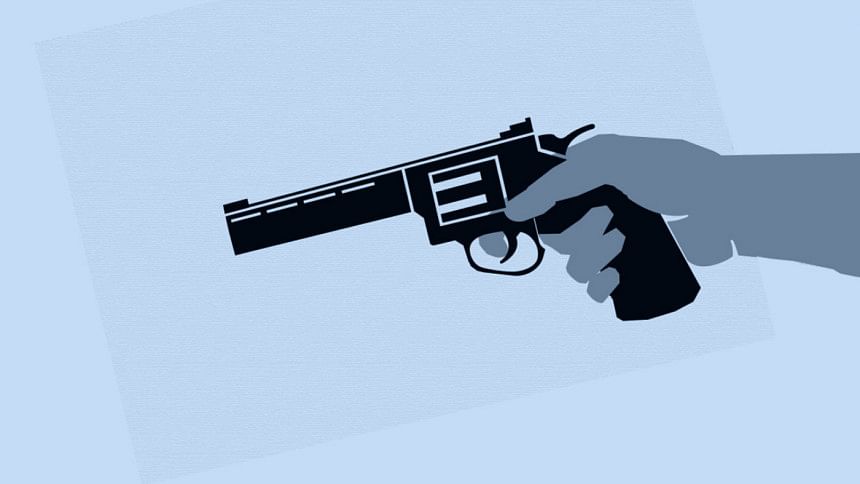 Two hours after two members of Rapid Action Battalion (Rab) were injured in a gun attack by Rohingya drug peddlers at Neela Noyapara Rohingya camp in Teknaf upazila, the prime suspect was killed in a reported gunfight with the elite force on Monday evening.
The deceased was identified as Anwar Sadeque, 35, a Rohingya drug peddler living in the Rohingya camp.
Major Rabiul Islam, deputy commander of Rab-15, said a team of the battalion conducted a drive in the camp in the evening after the gun attack while the Rohingya drug peddlers continued to fire at them.
At one stage, Anwar was caught in the line of fire around 6pm and died on the spot, he said.
Earlier, the two Rab men were injured in the gun attack by Rohingya drug peddlers during an anti-narcotic drive at the camp.
The injured are Rab sepoy Imran and Corporal Shahab Uddin of Rab-15 Crime Prevention Company (CPC).
Assistant Superintendent of Police (ASP) Shah Alam, in-charge of Rab-15 CPC-2 Hoaikyang Camp, said the Rab team conducted the drive at the den of drug peddlers in Muchoni Tower area around 4pm.
However, Rohingya terrorists opened fire on them, leaving the two members injured, he said.
The injured were first taken to private clinic Marine City and later shifted to the Combined Military Hospital (CMH) for better treatment.
Dr Farhad Hossain said the bullet-hit Rab men were taken to their clinic around 5pm. "They suffered bullet wounds to the back of their waists," he said.
Sources at the Rohingya camp said the Rab team conducted the drive while Yaba tablets were being sold.
The gun attack took place when they arrested Anwar.
The Rohingya drug pushers fled after firing five rounds of bullets, they said.