3 criminals killed in Dinajpur, Pabna gunfights: Police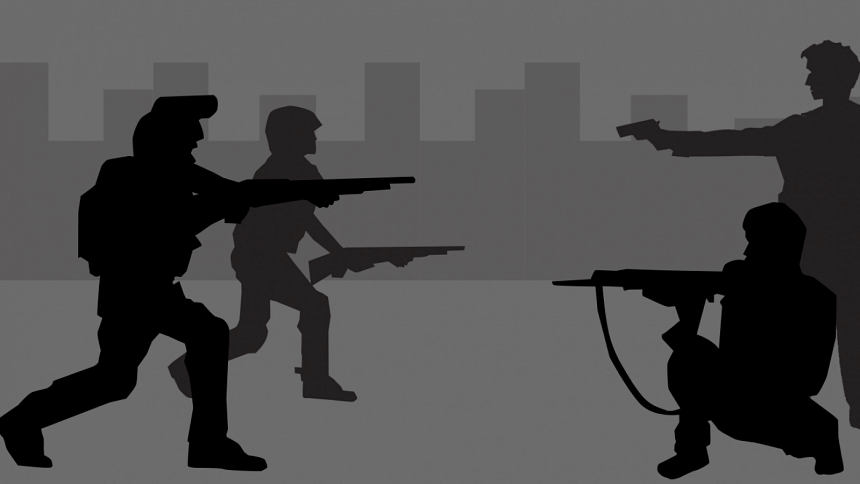 Three alleged criminals were killed in alleged gunfights in Nawabganj upazila of Dinajpur and Pabna town early today.
In Dinajpur's Nawabganj, two alleged members of a robber gang -- Rafikul Islam, 28, of Gaibandha, and Wazed Ali, 30, of Dinajpur -- were killed in a "gunfight" with police, reports our local correspondent, quoting Ashok Kumar Chauhan, officer-in-charge of Nawabganj Police Station.
Police had arrested the duo from Nawabganj on Wednesday.
Later, based on information they got from the arrestees, a team of police conducted a drive in Chhoto Magura village of the upazila, to recover arms.
Other members of the robber gang opened fire sensing the presence of police, to which police retaliated, claimed the OC.
The duo came in the line of fire and died on the spot, he added.
Four police officials were also injured in the incident, the OC claimed. The deceased were taken to M Abdur Rahim Medical College for autopsy, he added.
In Pabna, alleged criminal Habban Ali Sheikh, son of Haidar Ali of Pabna town, was killed in a "gunfight" with police, said Rafikul Islam, superintendent of police (Pabna Sadar circle).
A team of police conducted a drive around 2:00am at Char Shibrampur area of Pabna sadar, based on a tip off.
Habban's cohorts opened fire, ensuing a "gunfight" with police. At one stage, the gang of criminals fled and police rescued bullet-hit Habban from the spot.
Doctors declared Habban dead after he was rushed to Pabna Sadar Hospital, the SP said.
There are around 12 cases filed against the deceased with multiple police stations on various charges, the SP added.