Mizanur and his innovations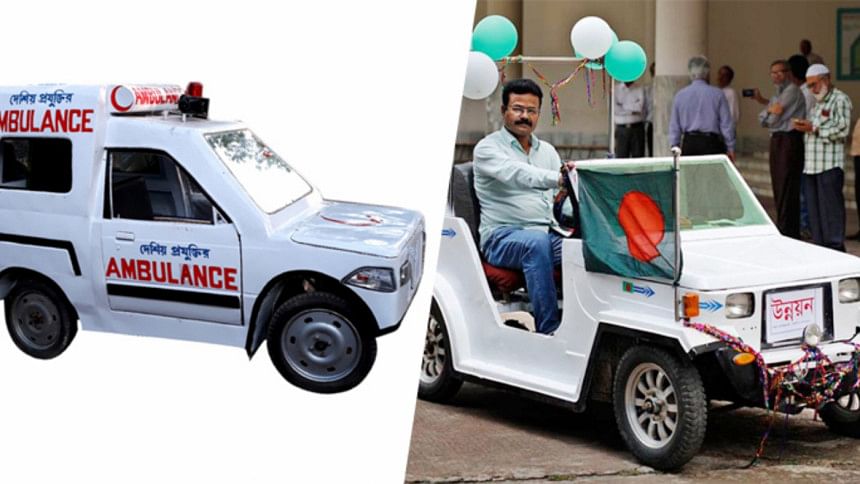 With institutional education up to grade eight, 48-year-old motor mechanic Mizanur Rahman is now quite the story of his town Sharsha in Jashore.
His creations, ranging from bracelets to mini ambulances, have created quite a stir in both inside and outside Jashore as well as brought him national level accolades.
Mizan was born to a farmer in 1971 at Amtala Gatipara village under Sharsha upazila. Eldest among three brothers and two sisters, Mizan started working as a motorcycle mechanic in 1988 and now owns a workshop "Bhai Bhai Engineering" at Sharsha Upazila Bazar.
Mizan's latest creation is a bracelet aimed to save children from drowning. The bracelet, worn in any part of the body, will ring a loud alarm if comes in contact with water.
It has two parts: one will be attached to the child while the other will remain with the guardian. The guardian will be notified instantly when the alarm rings.
"The price is between Tk 300-500. Two villagers, who have toddlers, have already bought the bracelets," Mizan said.
His first creation saw light in between 1992 and 1994, he recalled.
It was an engine that could run without fuel. It burnt smoke and generated fuel thus helped lessen environmental pollution.
Next, he came up with an automated fire extinguisher. This one, if connected to the water motor of a building, sends a signal to the nearby fire station within five seconds into a fire incident.
His next invention was a car with solar panel on the roof. The car, which has four seats, can run without burning fuel on sunny days, said Mizan.
"The price is also very reasonable. It is between Tk 1,20,000 and Tk 1,50,000. So, people with low income can also afford it," he added.
The invention, which is called "Deshiyo Projukti Motorcar" in Bangla, brought him an award in 2016. He won the first prize at a national level competition arranged by the National Museum of Science and Technology.
After that, he made "fireproof jacket" and "fireproof helmet". These are protective gears for anyone caught in fire, be firefighters or those trapped.
One invention that Mizan is most content about is special wheel chairs that he has made for the disabled.
"The person sitting it the battery-run chair can easily control it by moving the joystick. These chairs come at around Tk 50,000," said Mizan. "I made the chair in 2010 and since then 15 people have bought it. Solar panels are attached to the chair so they run without battery under sunlight."
Mizan's another noteworthy creation is "mini ambulance". These small sized ambulances are fit for rocky roads of villages. They can be used to reach remote areas.
The Prime Minister's Office has already acquired two under its A2I project, according to Mizan.
His product, "automated irrigation machine" can be operated from anywhere with a cell phone. The machine is coming handy to the farmers of Sharsha. 
His recent most creation was "environment safety machine." This one is mainly for keeping the environment clean.
"It is like a broom and has a button. If you push the button, the broom comes out like an umbrella and it can clean dirt from a spot about six feet away from you. It can lift up to five kilograms of waste. People who have backaches can use this device with ease," Mizan described.
This year, Bangladesh Council of Scientific and Industrial Research handed a crest and Tk 25,000 to Mizan for two of his products -- the mini ambulance and the safety bracelet for children.
With a view to curb environmental pollution, Mizan is currently working on a device which is expected to absorb smoke and dust.
Mizan has so far bagged 45 certificates at upazila, district, divisional and national levels. He runs a science club at Sharsha Bazar Pilot School where most of his products have been kept.
"People from different districts come to visit my workshop every day. But because of financial constraints, I cannot market my goods at a larger scale," lamented Mizan, who lost his parents long ago and has a wife and a son.
"In my childhood, I could not continue studies due to poverty. But I grew this obsession for building things using different tools and machines. I am not worried about buying a land or home. All I want is to keep innovating things in order to serve my society," said Mizan with a call for financial aid.