Tabligh Jamaat seeks PM's intervention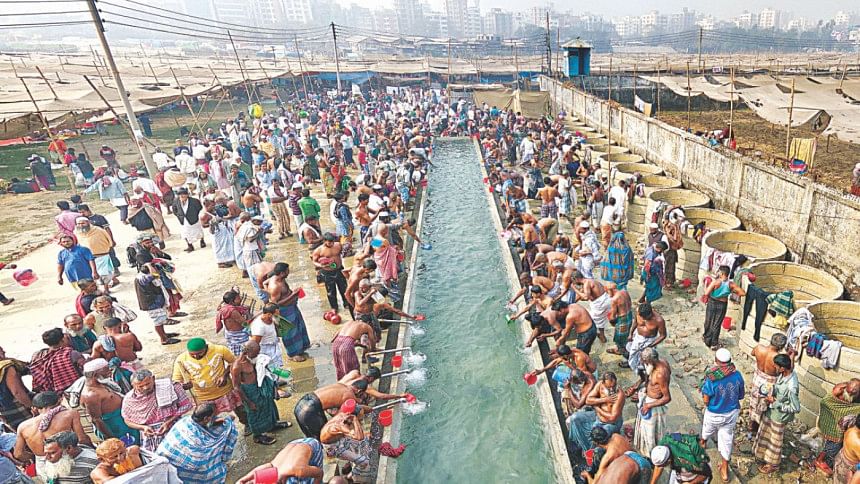 A faction of Tabligh Jamaat yesterday sought the intervention of Prime Minister Sheikh Hasina in holding a preparatory meeting for organising Biswa Ijtema, the second largest congregation of Muslims after Hajj.
The faction leaders came up with the demand at a press conference at Dhaka Reporters Unity.
A five-day preparatory meeting from November 30 to December 4 is necessary for organising the Ijtema, said Maulana Md Abdullah, a leader of the faction that are backing Indian Islamic scholar Maulana Saad Kandhalvi.
Maulana Saad, who had conducted Akheri Munajat (concluding prayers) of the Biswa Ijtema at Tongi for three consecutive years since 2015, had to return to New Delhi without joining the congregation this year in the face of protests over his alleged controversial statements for which he later apologised.
Reading out a written statement at the press conference, Advocate Yunus Mollah said around six lakh devotees who performed three "chillah" (a forty-day spiritual tour), are supposed to attend the programme.
He claimed that a good number of Qawmi Madrasa students have been gathering on Ijtema ground in Tongi to foil their scheduled preparatory meeting.
Responding to a question, Mohammad Sayem, a leader of the faction, said, "Some people are trying to foil our programme, and preparing to hold theirs from December 7."
He claimed that they were supposed to hold next year's Ijtema from January 11 to January 13 while the "other faction" from January 18 to January 20.
On November 15, Home Minister Asaduzzaman Khan said the Ijtema will not be held as per schedule next year due to the national polls. A new date for the Ijtema will be decided after the election.
On July 28, at a rally at Tajmahal Road in Mohammadpur, in the presence of Hefajat-e-Islami chief Maulana Shah Ahmed Shafi, the other faction of Tabligh Jamaat decided to prevent Maulana Saad from giving sermons in Bangladesh.
The faction claimed that Saad took the title of Ameer by himself going against the Sharia, and said it would not let him give any sermons in Bangladesh.
Founded by Maulana Ilyas Kandhalvi in India in 1927, Tabligh Jamaat, a non-political global religious movement, now has an estimated 70 to 80 million followers in more than 150 countries, majority of whom are based in South Asia.