'Hijacked' plane to resume flights next week
2 bullets sustained by the plane have been repaired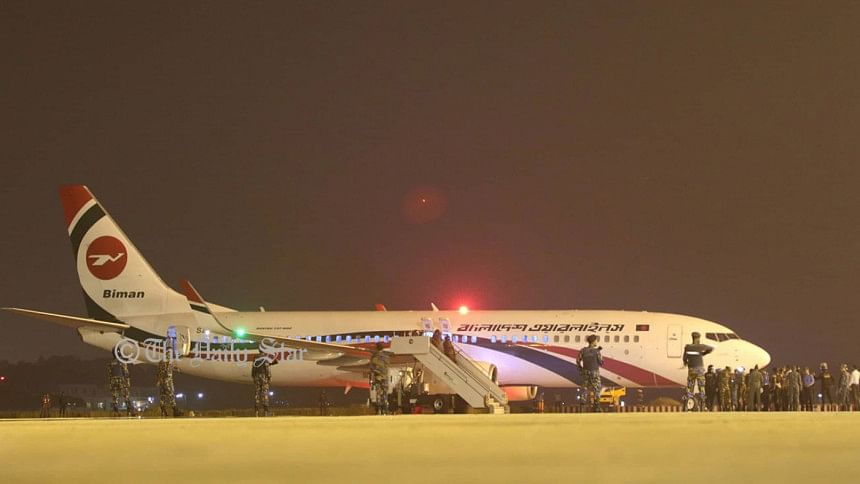 The "hijacked" plane of Biman Bangladesh Airlines will resume flights within 10 days, Civil Aviation Secretary Mohibul Haque said today.
Talking to The Daily Star, the secretary said the Boeing 737-800 sustained two bullet hits and a damaged switchboard during the "hijacking". "The switchboard replacement has been brought already," he said.
Meanwhile, the plane was flown to Dhaka tonight at 9:56pm for replacing the switchboard, airport sources told The Daily Star.
"The spare board has been brought from Boeing," the secretary said earlier in the day.
Prospects are, the plane will be added to the fleet of the national flag carrier within "eight to 10 days," Secretary Mohibul told The Daily Star.
Already, all the evidence has been confiscated from the aircraft after the "hijacking" at Chattogram on the evening of February 24.
Damages sustained to the aircraft were very little, the secretary said.
Chattogram court's Public Prosecutor Md Fakhruddin told The Daily Star the plane can only be used commercially after obtaining a court order.
Chattogram city police's Commissioner Md Mahbubor Rahman told journalists police will quiz all the passengers, crew members and others involved to unravel the "hijacking mystery".
WHAT HAPPENED AT CHATTOGRAM?
A flight of the national flag carrier Biman Bangladesh Airlines was allegedly hijacked yesterday at Chattogram's Shah Amanat International Airport.
The plane was landed on an emergency basis and all the 148 passengers on board were evacuated safely. All the cabin crew members were also safe.
Later, the alleged hijacker, who was said to have been in his mid-20s and armed with a pistol, was neutralised in a swift commando operation of eight minutes.
Afterwards, the officials said the "hijacker" appeared to have been "mentally imbalanced" and that he wanted to speak to Prime Minister Sheikh Hasina.
Counter Terrorism and Transnational Crime unit of Dhaka Metropolitan Police had kept the plane in their custody.