Indomitable March
Freedom fighter toils away without recognition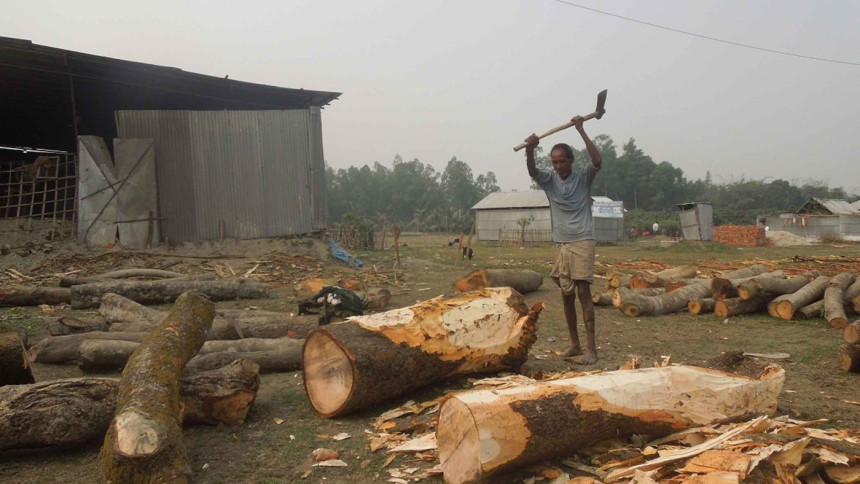 With cataracts in his eyes and difficulty in breathing, the frail 70-year-old man was toiling to bark logs with his axe in a sawmill of Domar upazila town.
Asked why he still has to work at this age, Nripendra Nath Roy alias Sinial said he has six mouths to feed and he cannot look away from them when they need him.
Likewise, when the country needed him 50 years ago, he took up arms and fought in different battles under Sector 6 until the country was free from the enemy.
As a means to honour the sons of the soil and to recognise their services for the country, the government has been disbursing monthly allowance for them every month.
However, valiant freedom fighter Nripendra, who fought in Burimari, Lalmonirhat and Nilphamari, has been deprived of the much-needed allowance due to a couple of callous errors made during the process of issuing his national identity (NID) card in 2008.
Not only his birth date was erroneously changed to 1960, instead of 1951, his alias, Sinial, was added next to his full name on the NID.
For the next seven years -- from 2008 to 2015 -- the elderly man tried in vain to get the error corrected despite spending countless hours during numerous visits at the Election Commission offices in Domar upazila and Nilphamari.
Ilius Hossain, former deputy commander of Muktijoddha Sangsad's Domar unit, said, "Nripendra Nath is a genuine freedom fighter as his name is included in the freedom fighters' list, compiled in India in 1971, which is accepted by all quarters. And this needs no further verification." 
"My year of birth is 1951... My name is correctly mentioned as Nripendra Nath Roy in the Indian list, under serial number 37429," Nripendra said.
"But in the NID card prepared in 2008, the callous enumerators put down Sinial, my nickname, as part of my full name. On top of that, they entered my birth year as 1960, which is incorrect. These mistakes have had disastrous effects on my life," the war veteran said frustratingly.
In 2017, after the government launched a verification of the freedom fighters' list, Nripendra turned in necessary documents -- including a copy of the freedom fighters' list, compiled by Indian authorities in 1971, and recommendation letters from his co-fighters and from the committee tasked with the verification of freedom fighters' list in the upazila -- to Jatiya Muktijoddha Council (National Freedom Fighters' Council).
The Council, four years later, is yet to make a decision on the case of Nripendra, who was an active freedom fighter under the command of Capt Iqbal, sub-sector commander of Sector 6.
Domar unit Muktijoddha Sangsad's former commander Mohammad Nurunnabi said, "All of us consider him to be a real freedom fighter and he should get the recognition."
Contacted, Domar Upazila Nirbahi Officer Shahina Shabnam said, "We are considering the case with sincerity and we await the decision of Jatiya Muktijoddha Council."
Nripendra is originally from Chowki Bhajini village in Debiganj upazila of Panchagarh. He later became a permanent resident of his wife's native home at Pashchim Boragari Bagdokra village of Domar upazila in Nilphamari.