Fishermen denied fair prices as preservation facility absent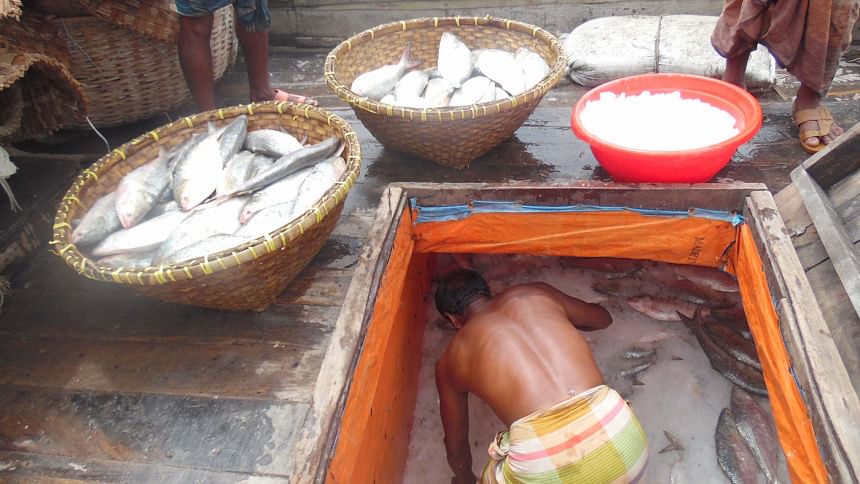 Fishermen of Dhal Char in Charfashion under Bhola are often deprived of fair prices as they have to sell the perishable item in a hurry to middlemen due to lack of preservation facilities.            
There is no ice factory in the remote island without any electricity, and it is difficult for the fishermen to go the mainland, some 20 kilometres away, to bring ice, said several fishermen.
"After reaching Chairman Bazar market in Dhalchar, we have to sell fish as quickly as possible. We would be able to bargain for fair price if we could preserve fish with ice," said a local fisherman.
The wholesale fish traders are also facing problem due to lack of preservation facilities. 
A one kg hilsa is sold for Tk 400 to Tk 600 while smaller ones are sold for much lower prices at Dhalchar.
"A one-kg hilsa is sold for Tk 600 to Tk 700 at the wholesale market in Chandpur. From there it is sold to wholesalers from across the country for Tk 700 to Tk 900 and finally it is sold to customers for Tk 1000 to Tk 1200 in cities," said Md Delowar Hossain, who regularly sends the fish from Chairman Bazar to Chandpur.
There are about 30 wholesale hilsa collectors in three fish markets in the island.  
Fishermen go to the sea on small, medium and large trawlers. Four to five fishermen work on a small boat, six to ten on a medium boat and twelve to twenty on a large boat. 
In the ongoing peak season, a small fishing boat usually brings 200 to 300 hilsa after passing one or two days in the sea, a medium boat brings 300 to 600 fish, and a large boat brings over a thousand fish after passing three to five days.
"To catch hilsa, we work hard during sun and rain, sometimes amid life risk during sudden rough weather in the sea. Sometimes we net plenty of fish but we can't be delighted as the price falls at markets in the island," said Abdul Jalil, a fisherman.
Most of the fishermen do not have fishing boats and nets of their own and so, they have to work on others' boats for fishing in the sea.
Abdus Salam, a wholesaler at Chairman Bazar, said he usually sends a trawler loaded with hilsa to Chandpur wholesale market twice a week and earn at least Tk one lakh on each journey.