Bamondanga river: Once Nilphamari's lifeblood, now personal property
BWDB moves to recover river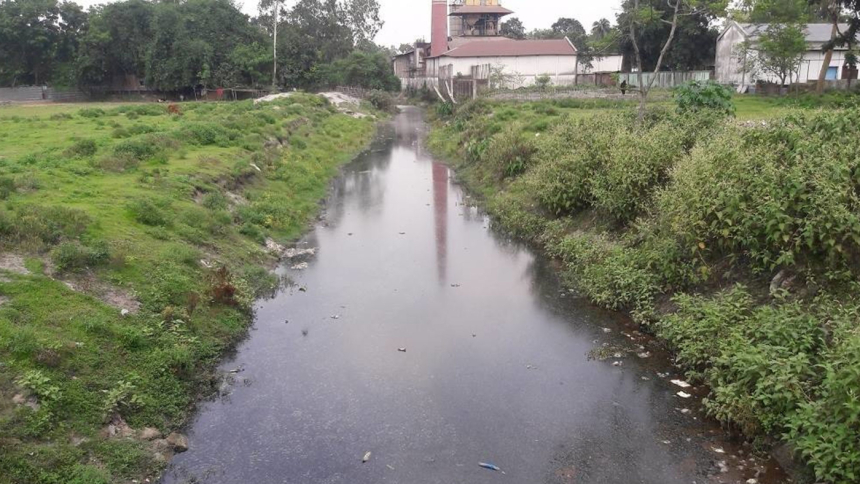 The 150-year-old Nilphamari township in the northen region was developed on the bank of Bamondanga river but the river has now no physical existence.
Crop fields, brick built structures can be found on the trail of the river now and the younger generation hardly knows about the once lifeblood of the district.
The existence of the river even can't be found in government land department's map in which most of the river bed has been shown as individual property and khas land possessed by some institutions.
Bangladesh Water Development Board (BWDB) has taken an initiative to revive the lost river's main course partially though tough task lies ahead to bring back the river in its original shape.
According to 'Nilphamarir Itihas' (History of Nilphamari), written by local historian Nasiruddin Ahmed, famous 'Sakha macha' bazar of northern region was once situated on Bamondanga river surrounding which Nilphamari township developed gradually.
Aminur Rahman, sub-divisional engineer (SDE) of BWDB's Nilphamari division said in line with government directive for excavating small rivers, canals and water bodies, they undertook the project in 2019-2020 fiscal year to excavate 6.90 km part of Bamondanga.
 "When we started the work, we faced strong opposition from some people who claimed the land of the river bed is their personal property and in the district administration's co-ordination committee meeting, few participants criticised us saying that the river had no existence," he said.
"We handled the situation as the trail of Bamondanga is clearly indicated in BWDB index and also in the map of Survey of Bangladesh though it was missing in land department's mouja map," he added.
That vested quarter attempted to foil river excavation either by showing aggression or creating scenes lying in front of excavators and also tried to get support of influential political parties but they failed as the civil society and local municipality were beside the BWDB.
In this context, the deputy commissioner's office formed a committee to de-mark river's area and BWDB also submitted a list of more than 150 people who were in possession of the river bed.
On contact, Nilphamari municipality mayor and also the president of district Awami League Dewan Kamal Ahmed said, "Bamondanga river should be fully recovered as it is vital for the environment and passage of flood water."
Social worker Mohammad Ali said, "Few dishonest land officials helped the vested quarter to make document to turn the river as private property which should be cancelled as per relevant river law."
ADC (revenue) of district collectorate Khondokar Md Nahid Hasan said that some people had land documents and the matter should be dealt legally to recover Bamondanga.
"We have been able to recover the river's 37% area and it is just the beginning and due to difficulties, in most places the width of the river is only 8-10 feet instead of 25 feet as per our plan and we will submit proposal soon to do rest of the work," said Abdullah Al Mamun executive engineer of BWDB.