AL leader expelled for defending Sonagazi madrasa principal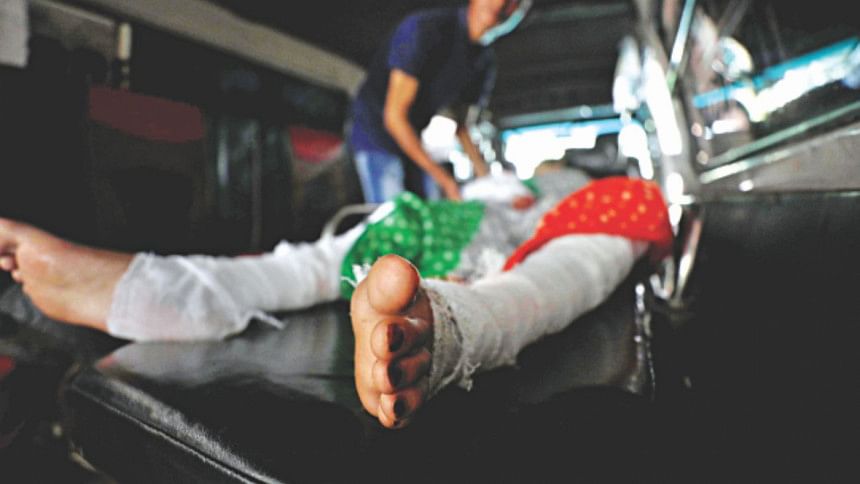 A local Awami League leader has been expelled from the party for defending the prime accused of Nusrat murder case in a Feni court.
Feni Sadar upazila AL General Secretary Advocate Noor Hossain said Kazirbagh union unit general secretary Bulbul Ahmed Sohag was expelled from the party today as he stood for Sonagazi madrasa principal Siraj Ud Doula in the court yesterday.
Madrasa student Nusrat Jahan Rafi lost her battle for life at Dhaka Medical College Hospital last night, five days after she was set ablaze at a madrasa in Feni -- an incident that touched off outrage all over the country.
However, the court yesterday placed madrasa principal Siraj, the main suspect in Nusrat murder case, on a seven-day remand.
On April 6, a group of four unidentified persons poured kerosene on the 18-year-old girl and set her afire allegedly for refusing to withdraw a case against the principal of Sonagazi Islamia Senior Fazil Madrasa over sexual assault on her late last month.
With 75 per cent burns, the 18-year-old had been struggling for life at the DMCH.
A REPEAT OFFENDER?
Siraj had earlier faced allegations of sexual harassment and had been sued for cheque forgery, vandalism and arson. He was arrested in the cases but got released after securing bail from court.
Locals and a number of staffers and students at the madrasa said no one at the institution dared to say anything against Siraj, an expelled Jamaat-e-Islami leader, who was backed by a section of local influential leaders.
An allegation of certificate forgery was brought against him after he joined the madrasa in 2000. But he managed to overcome it, using his political clout.
In October last year, a female student filed a complaint of sexual harassment against the principal with Additional Deputy Commissioner (revenue) AKM Enamul Karim, also president of the madrasa governing body. The compliant was withdrawn later.
Last year, a case was filed against Siraj over a Tk 1.39 crore-cheque forgery. He landed in jail in the case but got released, securing bail from court.
Earlier, two cases were filed against him on charges of vandalism and arson in Feni during political unrest in 2014. He was arrested and sent to jail. He was later released on bail in both the cases.
Talking to this newspaper, a number of students and staffers at the madrasa said the principal allowed some outsiders to stay in the dormitory, and used them as his henchmen.
They staged demonstration in support of him after his arrest in the sexual harassment case filed by Nusrat's mother on March 27.