473 women migrant workers dead abroad since 2016, 175 in Saudi Arabia alone
81 died by suicide
A year after she was sent to Saudi Arabia as a domestic worker, Nodi returned to Bangladesh last night, lifeless, crammed inside a coffin, only to be received by her wailing relatives on the premises of Hazrat Shahjalal International Airport.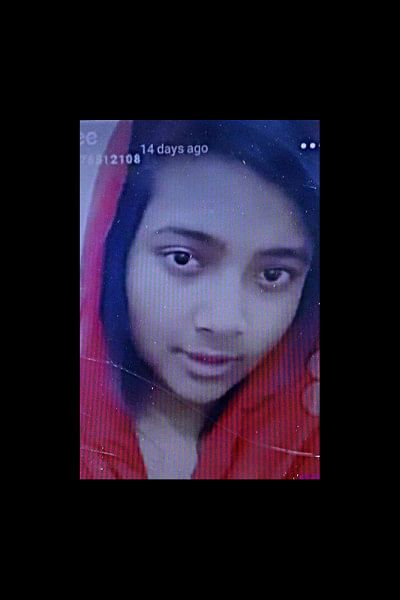 The 13-year-old girl was sent to KSA last year with a passport falsely listing her age as 27, in the same manner another teenager Umme Kulsum was also sent to the Gulf country as a domestic worker where she died at a hospital after being tortured by her employer.
Nodi's body arrived at the Dhaka airport at 4:00am. She was later buried at Khilgaon graveyard in the capital after Zuhr prayers on the same day.
According to the papers, Nodi had died by suicide in August this year. However, her family claimed that she was killed or forced to die by suicide after being tortured there.
"My daughter had been in trouble since she left for Saudi Arabia. We repeatedly told the recruiting agency about this but they did not take any steps. Now they have killed my girl. The papers say it was suicide but I saw that my daughter had signs of torture all over her body. Who do I ask for justice?" Nodi's mother Beauty Akhter wailed.
The scene was reminiscent of Nasima Begum crying last month when the dead body of her daughter Kulsum landed in Dhaka.
This year, due to the closure of flights amid Covid-19 pandemic, there have been complications in transporting the bodies to the country.
The procession of deaths, meanwhile, did not stop.
According to the Expatriates Welfare Desk at Dhaka airport, the bodies of at least 63 women arrived between January and September this year. Among them, 22 lost their lives in Saudi Arabia alone, while 14 died in Lebanon, 11 in Jordan, seven in Oman, and four in the UAE.
A total of 473 women's bodies have been returned to the country from the Middle East from 2016 till September this year. Among them, at least 81 died by suicide.
SEA OF DESPAIR FOR NODI'S FAMILY
According to the family and birth certificate, Nodi was born on December 1, 2007, which means she was yet to be 13 years of age. However, in the passport, she was said to be 27-years-old, with the date of birth shown as September 3, 1993. Although their home is in Cumilla, Nodi's passport was issued from Mymensingh.
Nodi's mother Beauty Begum and father Dulal Sheikh alleged that the employer started torturing Nodi ever since she reached KSA last year. No salary was even paid to her either.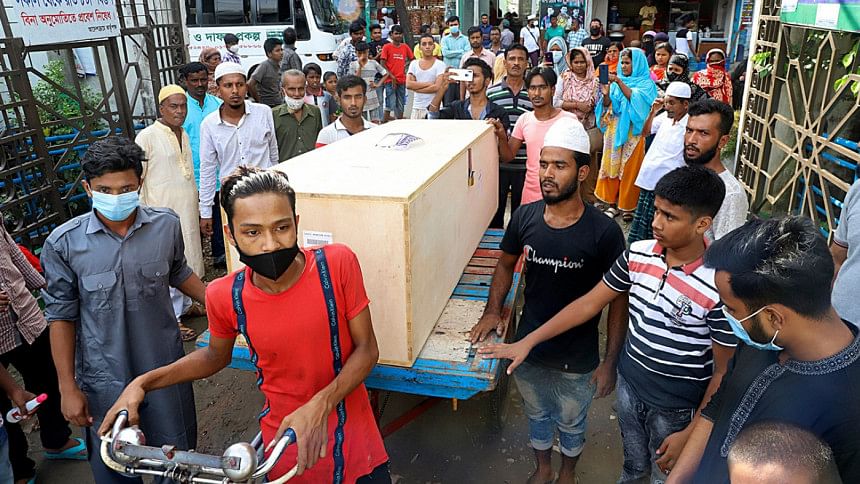 A Rahman Lalon, owner of the recruiting agency Dhaka Export (RL-275), was informed in this regard time and again but instead of solving the problem, he threatened the family in various ways, Dulal Sheikh said.
An official letter sent to Dhaka on August 26 from the Bangladesh embassy in Saudi Arabia said that the embassy had received information that Nodi had died by suicide in Medina on August 14. The embassy contacted Mansour al-Magamisi, owner of the Saudi recruiting agency, and they also corroborated the same.
Nodi's family's opinion was sought for the body to be buried in Saudi Arabia in that letter. However, the family did not agree and a letter was sent from the Wage Earners Welfare Board to Saudi Arabia on September 2 stating that the family wanted the body to be brought back to Bangladesh.
The family also filed a case with a Dhaka court over Nodi's death and Kalabagan police has already arrested three people, including A Rahman Lalon, owner of the recruiting agency, on October 18.
How does a 13-year-old girl go abroad with falsified documents? The question remains.
Migrants' rights activists said the government needs to investigate how teenage girls are getting their passports and going abroad and which agencies are involved in this in order to stop such deaths from happening.
MOST ARE DYING IN SAUDI ARABIA
Of the 473 women's bodies returned to the country from the Middle East between 2016 and September this year, the highest number of deaths was 175 in Saudi Arabia, while 75 died in Jordan, 66 in Lebanon, 45 in Oman, 27 in UAE, and 20 in Kuwait.
At least 81 of them died by suicide, including 51 in Saudi Arabia alone. Of them, three died by suicide in 2016, 12 in 2017, 23 in 2018, 29 in 2019 and 14 this year.
Among the 14 cases of suicide this year, nine died in Saudi Arabia. They are: Nasima Begum (28), Afia Begum (36), Taslima Begum (26), and Khadija (39) of Barguna; Safia (31) of Narsingdi; Helena (29) of Moulvibazar; Mamtaz (34) of Manikganj; Nasrin (31) of Chapainawabganj; and Rekha (40) of Narayanganj.
Each of these deaths is questionable, according to their families.
Mosammat Begum is an example. She went to Saudi Arabia in April 2019 through a recruiting agency. But no one knows the mystery of her death in Egypt.
According to the Bangladesh embassy in Egypt, Mosammat Begum died after falling from the rooftop of a five-storey building on May 29, 2019. Begum's husband Abdul Aziz said he had learned through the union chairman a few days ago that someone called Begum had died in Egypt. But he did not take the matter seriously as his wife was in Saudi Arabia. It was after he got a call from Egypt that he realised it was his wife who had died.
Another worker, Abirun Begum, who went to Saudi Arabia in July 2017, was found dead at her employer's house. Her family got the news 51 days after the death. Abirun's family members alleged that her employer had brutally tortured and killed Abirun. She was not even paid her salary for two years. However, the family did not get any justice.
A similar incident happened with Nazma, who was tortured to death in Saudi Arabia, and her body was returned to the country 53 days later. Nazma went to Saudi Arabia through a local broker in December 2018 to be employed at a hospital, but she was sent to a home instead where she was tortured and sexually abused, according to the family.
"Unable to bear the torture, I stabbed myself in the neck. Many tried to die by suicide in KSA. Actually, the circumstances forced them to do so," Sufia Begum of Faridpur told The Daily Star
Kamaluddin Ahmed Chowdhury, an associate professor of the Department of Clinical Psychology at Dhaka University and director of the Nasirullah Psychotherapy Unit, told The Daily Star, "A person never dies by suicide under normal circumstances. What we see in Saudi Arabia, most of the women were oppressed or were in such a bad situation that they thought suicide is the only way to escape. In fact, people die by suicide when they have no choice. To stop this, the obstacles they face should be removed."
Those who manage to survive through the ordeal also have no end to their misery. In many cases, their families do not want to accept them, while others face mental trauma.
Runu Begum from Khulna is one of them. She returned from Saudi Arabia on October 10 and was found walking at the airport in an unstable state. She was then sent to a non-governmental organisation by the Airport Police.
According to the Bureau of Manpower, Employment and Training (BMET), more than 800,000 women went abroad between 1991 and 2019. Of them, the largest number, more than three lakhs, went to Saudi Arabia and the main crisis is there.
In 2015, Bangladesh agreed to send women as workers to Saudi Arabia. On February 2015, a 19-member delegation led by Deputy Minister Ahmed Al Fahad of the Saudi Ministry of Labour arrived in Dhaka when Bangladesh signed an agreement to this end. After that agreement, 21,000 women workers were sent to KSA in 2015, 68,000 in 2016, 83,000 in 2017, 83,000 in 2018, 62,578 in 2019, and 10,930 this year before Covid-19 pandemic broke out.
Although there is no actual report of how many women have returned from KSA, according to the embassy and various media reports over the last five years, the number is more than 10,000. Many more are reportedly waiting to return at safe homes and immigration camps in KSA with already shattered hopes.
A woman from Kurigram who went to Saudi Arabia in the hope of prosperity for her family was raped by her employer and she became pregnant. She later fled to the Bangladesh embassy in Riyadh to save her life. She eventually came back to Bangladesh two months later.
Another woman from Dhaka's North Badda who returned from KSA, said that the men of the house where she worked used to physically abuse and sexually harass her. When she protested, her hair was pulled out.
A girl from Manikganj said she used to work in the Bani Yasar area of Saudi Arabia. She jumped from the rooftop of a four-storey house, unable to bear the torture by her employers. Later, she found herself in the ICU of a hospital.
A woman from Cumilla was also tortured and needed 14 stitches on her head.
Last year, Sumi Akhter's video from Saudi Arabia went viral, where she was seen urging and pleading everyone to save her life. She was later rescued and brought back to the country.
Ministry of Expatriates' Welfare and Overseas Employment sent a report to the parliamentary standing committee concerned in August last year. The report said that they had talked to about 110 female domestic workers who returned from Saudi Arabia and 35 percent of them returned home after being physically and sexually abused, while 44 percent of these women were not paid regularly.
In a joint committee meeting with Saudi Arabia last year, Bangladesh raised the issue of oppression of female workers. Saudi Arabia, as always, assured of looking into the matter. BMET Director General Mohammad Shamsul Alam said the ministry and BMET had issued 12-point directives in December last year to ensure the safety of women workers and they are more careful about the issues.
Asked how much the situation has improved, Shamim Ahmed Chowdhury, secretary-general of the Association of International Recruiting Agencies (BAIRA), said yesterday that the agencies are often held responsible over the cases of harassment or death of Bangladeshi domestic workers in KSA, but the crisis will not be resolved unless action is taken against the Saudi employers who maltreat the workers.
A mechanism should be developed to this end, he added.
The writer is a freelance journalist.