16 killed as intercity train crashes into another in B'baria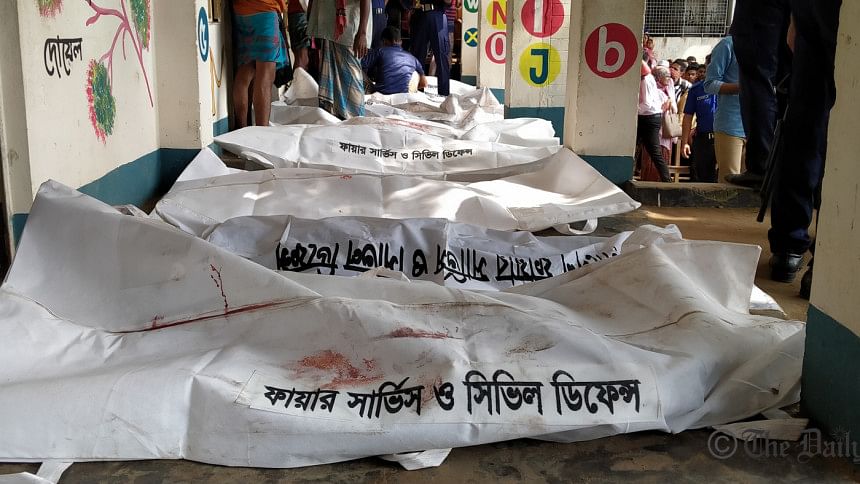 -- Death toll may rise
-- Turna Nishita hits Udayan Express
-- 2 coaches of Udayan Express badly damaged
-- Rail links of Dhaka-Ctg, Dhaka-Noakhali, Ctg-Sylhet snapped
-- 3 probe bodies formed
At least 16 people were killed and 73 injured as an intercity train crashed into another train in Kasba upazila of Brahmanbaria early today.
Dhaka-bound Turna Nishita Express from Chattogram rammed Chattogram-bound Udayan Express from Sylhet at Mondobhag Railway Station around 3:00am, said Md Delwar Hossain, loco shed in-charge of Akhaura Railway Junction.
Shayamal Kanti Das, officer-in-charge of Akhaura Railway Police Station, said 12 people died on the spot and many others suffered injuries in the train crash.
Later, three of the injured died at Brahmanbaria Sadar Hospital while another at Cumilla Sadar Hospital, the OC told our local correspondent.
Among the injured, Mollah Mia, 25, has been admitted to Dhaka Medical College Hospital this afternoon, said Inspector Bachchu Mia, in-charge of the hospital's police outpost.
Five other injured were taken to National Institute of Traumatology and Orthopaedic Rehabilitation (Nitor), popularly called Pangu Hospital, in Dhaka, Moni Sangkar, a doctor at the hospital, told The Daily Star.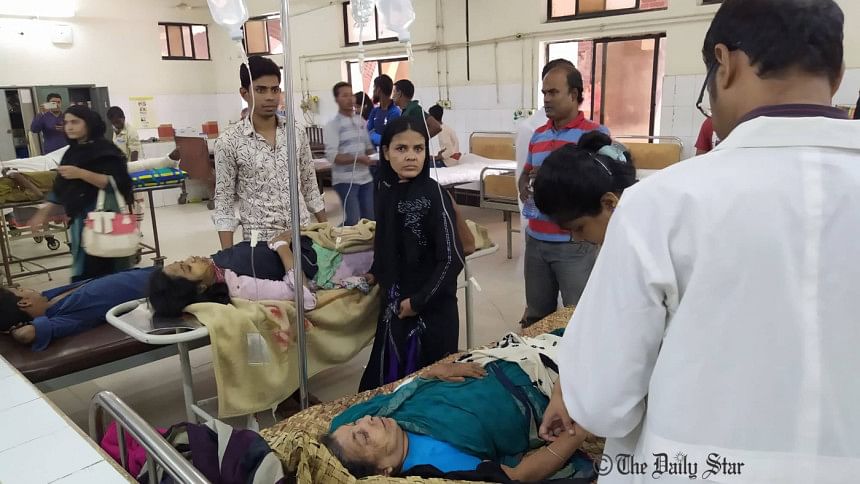 "The rescue operation was underway. Death toll may rise as many people are still trapped under the damaged coaches," he added.
Turna Nishita Express hit bogie no. Jha of Udayan Express when the latter was changing its track at Akhaura Railway Junction, Loco Shed In-Charge Md Delwar Hossain further said.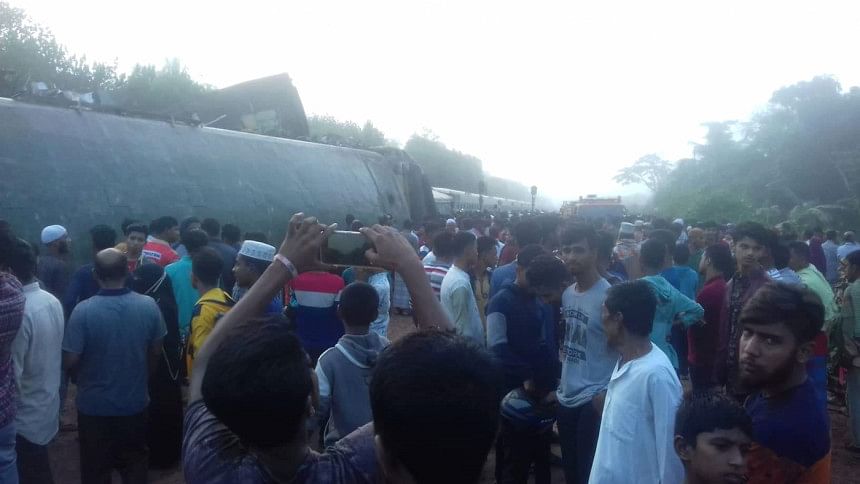 Two compartments were badly damaged, he said.
Among the deceased, 10 have been identified as Mujibur Rahman, 55, and his wife Kulsum Begum, 30, of Hajiganj upazila; Farjana, 15, of Sadar upazila in Chandpur; Sohamoni, 3, of Brahmanbaria Sadar; and Jaheda Khatun, 30, of Akhaura in Moulvibazar; Yasin Arafat, 12, of Sadar upazila; Sujan Ahmed, 24, of Chunarughat upazila; Md Al Amin, 30, of Baniachang upazila, Ali Mohammad Yusuf, 32, of Sadar municipality; Adiba, 2, of Baniachang upazila in Habiganj district.
The bodies of Mujibur and his wife, Yasin Arafat, Sujan and Jaheda were handed over to their families, our Comilla correspondent reports from the spot.  
The collision has suspended rail communication between Dhaka-Noakhali and Chattogram-Sylhet.
Dhaka's train services with Chattogram also remained suspended for seven hours but the service resumed at 10:25am after the authority cleared the track, said Railways Ministry information officer Shariful Alam.
Turna Nishita Express also left the spot for Dhaka around 10:48am.
Two relief trains from Akhaura and Laksam railway junctions rushed to the spot and were conducting rescue operation till filing the report around 11:50am.
Three suspended
Three people have been suspended in connection with the accident.  
They are loco master of Turna Nishita Taser Uddin, assistant loco master Apu Dey and working guard Abdur Rahman.
Compensation
The rail minister said the families of each of the dead victims will be given Tk 1 lakh as compensation from the railway ministry and Tk 25,000 from district administration.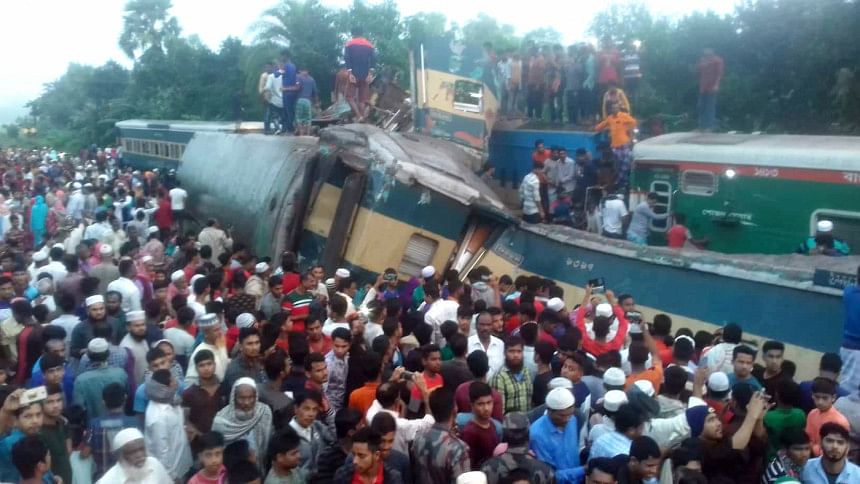 Besides, the injured will get Tk 10,000 from the ministry, said Shariful Alam, senior information officer of railways ministry.   
The bodies have been kept on the ground of a local school.
3 probe bodies formed
Three committees -- two by railways ministry and one by district administration -- have been formed to investigate the incident.
A four-member committee headed by Nazmul Islam, operating superintendent of railways ministry, has been formed and asked to submit the report as soon as possible, railways ministry's Senior Information Officer Shariful Alam told The Daily Star.
Besides, Nasir Uddin, divisional transport officer (Chattogram) of the ministry, will lead another four-member committee, which has been asked to submit report within two days, he added.
District administration has also formed a body with Brahmanbaria Additional District Magistrate Nitu Morium as its chief.