12 hurt as Labaid, Concord Mall staffers scuffle in Dhanmondi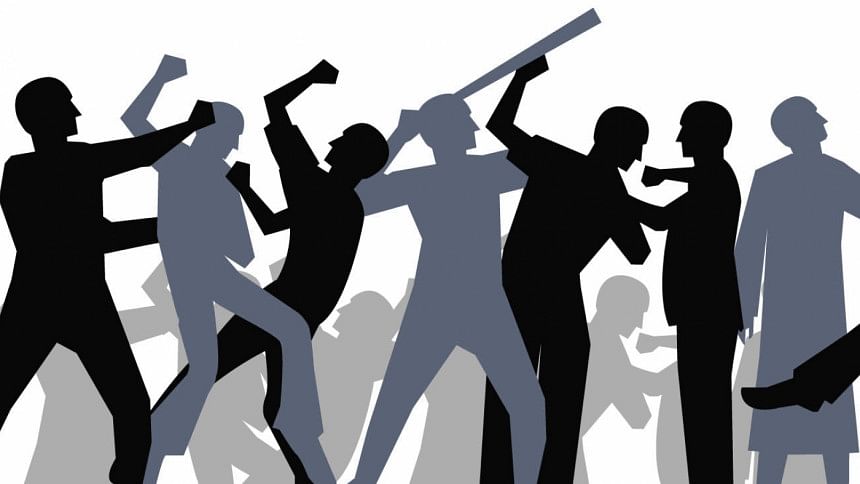 Staffers of Labaid Hospital and Concord Shopping Mall Owners Association members locked into a clash today in the capital's Dhanmondi, that left some 12 people injured, one of them critically.
The clash ensued around 2:30pm after shopping mall owner's association members obstructed hospital staffers from opening two shops, which Labaid had bought a year back.
The hospital's security-in charge Md Nasir Uddin Taz received severe head injuries and is undergoing treatment at Labaid.
Chowdhury Meher-E-Khuda Dip, Public Relations Officer of Labaid, said the hospital owned four to five shops on the third and fourth floor in the shopping mall.
Yesterday, hospital authorities sent three workers to paint their two shops. But the owner's association President Sanaul Hoque Mir and Secretary Mokter Hossain allegedly stopped the workers, slapped them and sent them back, alleged Dip.
"Three top officials of the hospital, including the security in-charge, went to the market to check the issue and 15 to 20 members of the market association were waiting with sticks," said Dip.
As hospital officials asked the reason for attacking on workers, the market association members locked into an altercation and attacked them, claimed Dip, adding the association president Sanaul Hoque brought out a pistol and fired at Taz, but he escaped it narrowly.
The owner's association members threw brickbats and vandalised the hospital cafeteria,
before police arrived and brought the situation under control.
Asked about the incident, Hasin Uz Zaman, assistant commissioner of police of Dhanmondi zone, said that "We checked the firearms, and Sanaul's gun is licensed."
Regarding the incident, Dr Shamsul Alam, an executive member of the market owner's association, said Labaid bought several shops in the market, but did not pay any service charge.
As association members asked them to open the shops through proper applications to the association, they refused to pay heed to it and forcefully tried to open the shops, which triggered a clash leaving at least six security guards and association members hurt, he added.
Regarding the gunfire, Dr Alam said the market president fired gunshots for his own protection.
Sazzadur Rahman, deputy commissioner (Ramna Division), said, "We have detained four people from both sides, and are investigating the incident to find what actually happened."
No case has been filed over the incident yet.