Muhith lauds Yunus, Abed for poverty alleviation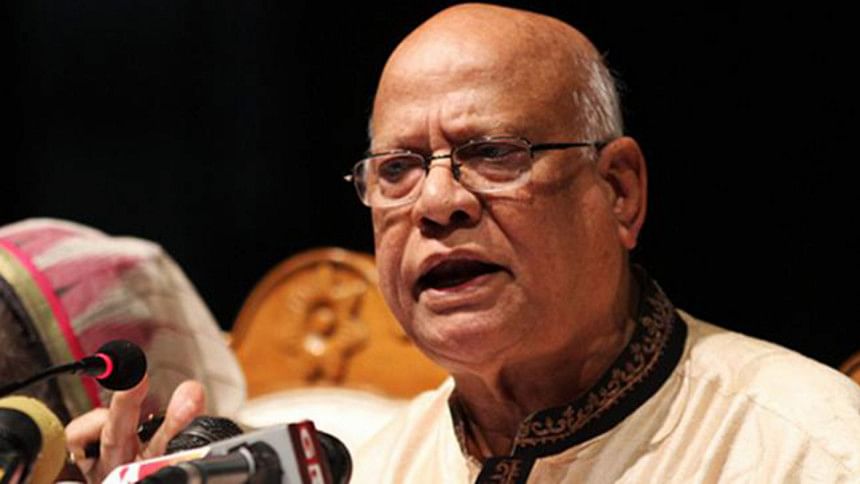 Finance Minister AMA Muhith today applauded Nobel Laureate Prof Muhammad Yunus and Brac founder Fazle Hasan Abed for their pioneering efforts to eradicate the country's poverty.
"They (Yunus and Abed) are respected personalities. We should respect them," he said while speaking at the function on 'Modernisation Loan Management System' at the auditorium of the LGED in Agargaon area of Dhaka.  
Muhith said the initiatives of Prof Yunus and Sir Abed started on a very small scale but over the years they had transformed those initiatives into institutions.
"I think these two projects [Grameen Bank and Brac] exhibited the country's success in poverty alleviation," Muhith said adding that they have helped the people to thrive with their hidden talents.   
He said the government always aims to root out poverty and takes up various initiatives. "Since 1972, poverty alleviation has been the government's priority. The priority still continues today."
In 1972, some 70 percent people used to live under poverty line, compelling government to work for poverty eradication. The rate has now come down by 22 percent, Muhith said.
Muhith said governments had enabled people to utilise their capacity. "Grameen Bank has also played this role successfully in our country. Grameen Bank was established with a notion that even the extremely poor have rights to credits and if they get loans they can change their fortunes."
Not only Grameen Bank, organisations such as Brac also came up with same ideas for the poor, he said.
The minister, however, said still 3.40 crore people were poor in Bangladesh, with half of them living in extreme poverty. "So, the problem is acute and we have to continue our efforts."
The minister also said the government aims at eradicating poverty from the country by 2024.