Mro mango orchardists head for a bright economy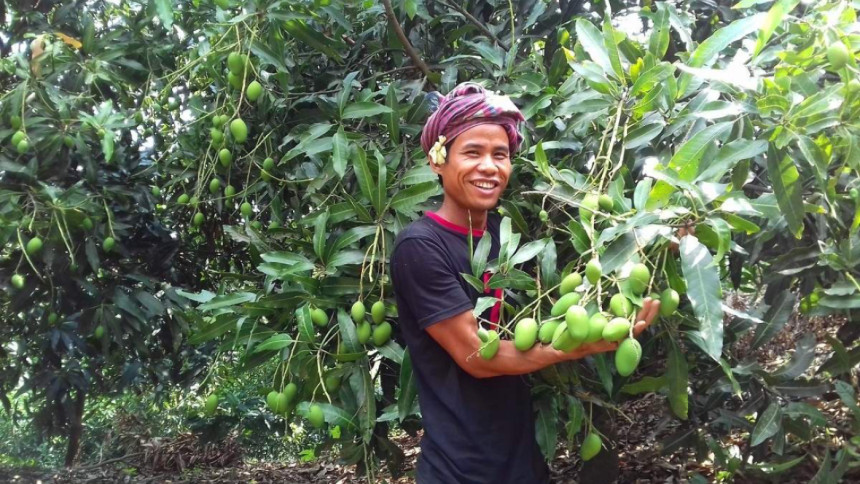 Being born into the hill-tracts-based Mro community means to inherit a rich culture of age-old tradition, including the agricultural practice of jhum cultivation. But instead of relying on the established ways of his roots, Singpart Mro, 28, of Cramadi Mro Para in Bandarban's Chimbuk Road area is following a new tradition. He's begun farming mangoes.
"I had 5 acres of jhum land," he says, "and I invested Tk 1 lakh in establishing a mango orchard there. Already I've harvested 600 maunds of mangoes for which I earned around Tk 8 lakhs."
According to Singpart, the tastiest and most popular mangoes suitable for cultivation in the hill tracts are the amrapali and rangue varieties; and he notes the assistance he has received from local department of agriculture extension officials in ensuring a favourable yield, especially in the case of his amrapali crop.
"Pest control is crucial to a good harvest," Singpart says, "and the agriculture officers gave good advice on how to use pesticide properly and when."
Singpart has always been ambitious. In 2015 he completed a Masters in Sociology from a university in Dhaka, an all-too-rare achievement in the Mro community. While he thought that, post-graduation, he would obtain a job back home, he decided instead that self-employment would not only be a means to support his family but also help to inspire others.
Singpart's enterprising efforts are widely appreciated in his community; but he's hardly alone. In the past few years many indigenous families in Bandarban have left jhum cultivation in favour of fruit orchards, including mangoes.
"Many growers in Cramadi Mro Para are getting good amrapali and rangue harvests," says local chief Karbari Raing Sang Mro. "Interest among buyers is increasing, especially because our locally-produced mangoes are free from harmful chemicals."
According to the deputy director of the department of agriculture extension, Altaf Hossain, mangoes are offering brighter economic prospects for indigenous farmers than jhum cultivation can hope to achieve.
"Mango cultivation offers handsome returns," he says, noting that around 4,500 hectares of hilly terrain in Bandarban were devoted to mango orchards this year, resulting in production of about 75,000 tonnes of the fruit. "We hope to train local farmers in good agricultural practices so that eventually they can even export mangoes internationally."