Medical test protesters withdraw Shahbagh sit-in
Threaten indefinite student strike from Oct 7
 - Six-hour sit-in withdrawn
 - Transport movement in Shahbagh becomes normal
 - Protesters to resume demo tomorrow morning
 - Demonstrators threaten to enforce indefinite student strike from Oct 7
Students seeking retake of the MBBS and BDS admission tests withdrew their six-hour sit-in at Shahbagh intersection in Dhaka for today.
The protesters also threatened to enforce an indefinite strike at all educational institutions across the country from October 7 if their demands are not fulfilled.
They however announced to resume the demonstrations tomorrow morning at the Central Shaheed Minar to press home their demand, said Asif Bin Taki, a spokesperson of the protesting students.
They called upon all the medical students and interns to boycott classes and abstain from work for one-hour tomorrow in protest against alleged question leakage of the admission tests held on September 18.
The protesters began the sit-in at Shahbagh intersection this afternoon after police barred them from marching towards the Prime Minister's Office.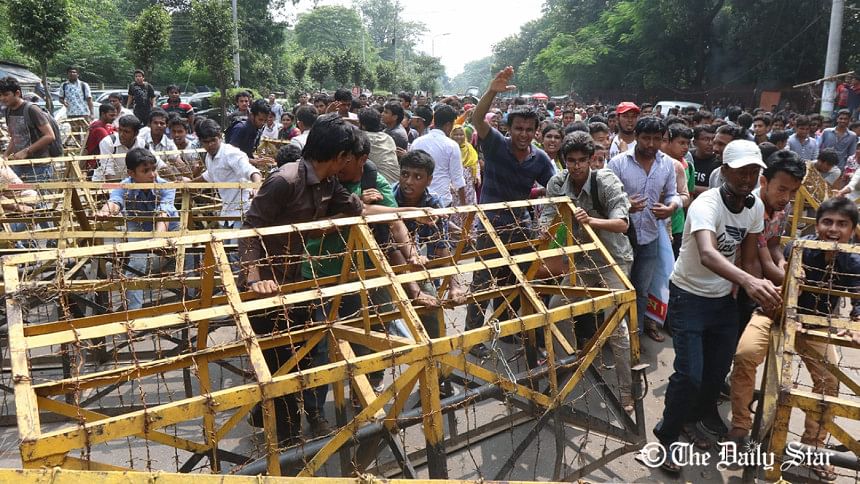 They have declared to continue their agitation until the prime minister assures them of retaking the admission tests for medical and dental colleges.
THREAT TO ENFORCE STUDENT STRIKE
Meanwhile, Pragatishil Chhatra Jote and Samrajjobad Birodhi Chhatra Oikya, an alliance of 13 student organizations, today threatened to enforce an indefinite strike from October 7 to push their demands.
"We will call the strike at all educational institutions across the country if the demand for cancelling the admission tests and arresting those involved in question papers leakage are not met by October 6," said Imran Habib, a spokesperson of the students' platform at a press briefing at Shahbagh.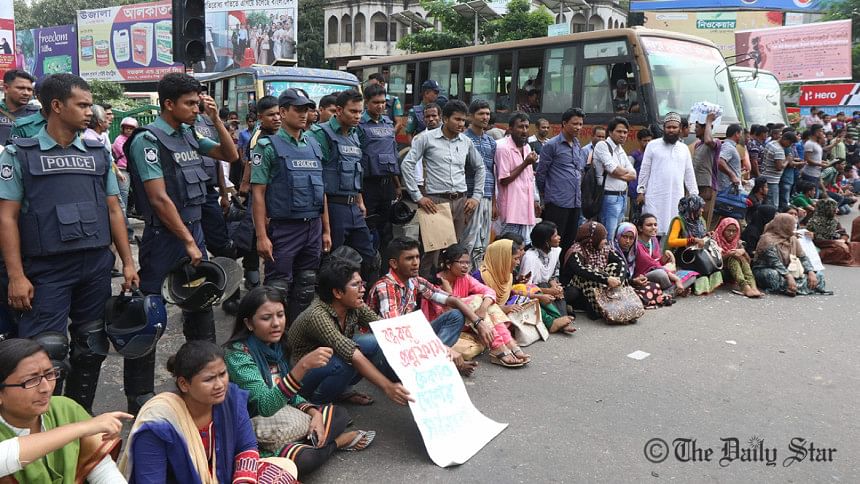 The students will bring out demonstrations and torch processions on October 5 and 6 as part of their ongoing protests, he said.
Transport movement at Shahbagh intersection however returned to normalcy from 5:00pm following the postponement of the sit-in for today.
As part of their scheduled programme, hundreds of students and guardians started marching towards the PMO from the Central Shaheed Minar around 12:33pm to submit their memorandum in favour of their demands.
Many students from Dhaka Medical College and Sir Salimullah medical College also joined the protesting students expressing solidarity with them.
On their way to PM office, they faced police barricade set up in front of the Shahabagh Police Station.
The agitated student took to the Shahbagh intersection by breaking the police barricade and started a sit-in there. They were chanting slogans in favour of their demands.
At one state, Shibli Noman, assistant commissioner (Ramna Zone) of Dhaka Metropolitan Police, using a loudspeaker called upon the agitators to remain calm.
He asked students to send their representatives to him so that he can help the team to go to the PM office with their memorandum.
Later, a seven member-delegation was allowed to go to the PM office for submitting their memorandum.