Mahmood for shared responsibility to protect disaster-hit people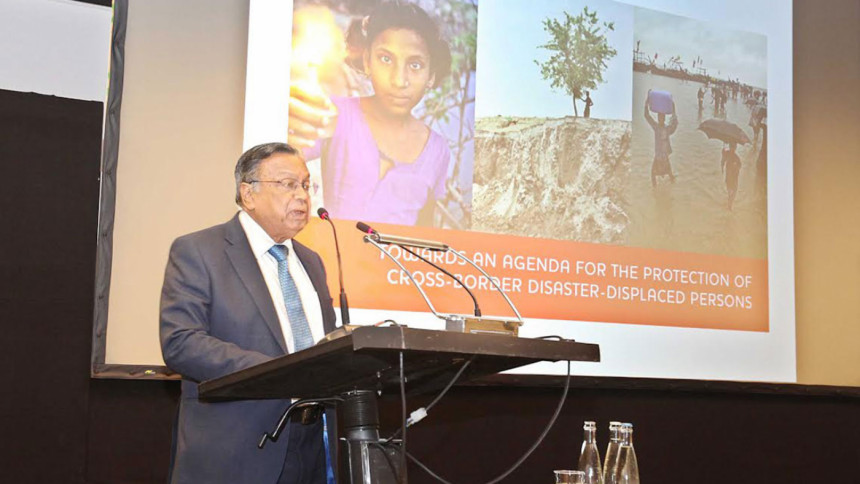 Foreign Minister AH Mahmood Ali has demanded shared responsibility of all states to protect the climate and disaster-induced displaced people and mitigate their misery.
He was speaking along with other ministers at the 'Nansen Initiative Global Consultation' in Geneva on October 12, according to a foreign ministry press release.
Around 350 delegates from 132 countries including the prime minister from Cook Islands, ministers from different countries including Kenya, Madagascar, Kiribati, Lesotho, and high officials from 132 states and international UN and other organisations including civil society leaders attended the meeting.
The objective of the conference inaugurated by Switzerland Minister for Foreign Affairs Didier Burkhalter was to discuss and recommend actions for protection of the climate and disaster-induced displaced people. 
The foreign minister explained the challenges for Bangladesh caused by climate change and natural disasters and the future adverse effects as well.
However, he mentioned that under the visionary leadership of Prime Minister Sheikh Hasina, the people of Bangladesh developed resilience to combat the ill-effects of climate change.
He referred to the award ''The Champions of the Earth'' in the Policy Leadership category conferred by the United Nations on the prime minister for her outstanding contribution towards mitigating the ill effects of climate change.
Nonetheless, he added that there is always a limit to resilience, no matter how strong the resilience is.
The foreign minister also pointed out from the 5th IPCC report that Bangladesh had lost 6 percent of GDP during the period of 1998 to 2009 due to extreme climate events, as a result the state is likely to experience 15 percent increase in poverty by 2030.
Quoting from IPCC, he mentioned that one metre rise in sea level would inundate one sixth of Bangladesh, which would result in displacement of 31.5 million people, and with a risk of 2 to 3 percent of GDP loss in each year.
He demanded that all states must share the burden of this calamity and hardship, especially the states which were more responsible than others for polluting the environment and for bringing on the climate change.