Legendary folk artiste Abdul Gafur Hali passes away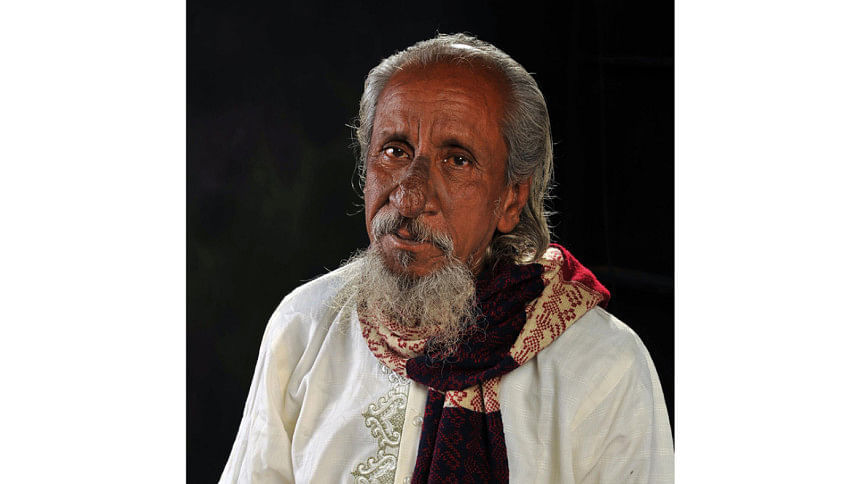 Abdul Gafur Hali, the person considered to be one of the pioneer lyricists, composers and singers of Bangla folk, mystical and local songs, died of old age complications at the age of 88 early today.
The composer of many remarkable songs like 'Sona bondhu tui amare korli re dewana' and 'O Shyam Rengun noo jaio', Hali breathed his last at Mount Hospital in the port city's Surson Road at about 5:50am. He had been suffering from old age complications for several months.
The noted artiste left behind two sons, two daughters and host of relatives and admires to mourn his death.
His first namaz-e-janaza will be held at Maizbhandari Darbar Sharif premises in Fatikchhari upazila of the district after Johr prayer on Thursday while the second namaj-e-janaza will be held at Jamiatul Falah Mosque field after Magrib prayer.
His body will be buried at his village home Shobhandandi of Rashidabad union in Patiya upazila following the third namaz-e-janazas.
Born in 1929, the artiste was inspired by the works of another legendary folk song composer Askar Ali Pandit. Later, Maizbhandari (mystical songs in Chittagong region) Sufi singers left a great impression on his life.
Hali composed over 2,000 local folk, murshidi, marfati and maizbhandari songs including 'Banu r! O Banu! ai jaium Chatga shohrot tuarlai ainnum ki'.
The bard successfully used local language of Chittagong region in composing his songs and in his literary works. 
Apart from the songs, Gafur Hali also penned six folk plays using his native language of Chittagong. Of the plays 'Gulbahar', 'Nilmoni', 'Ashek Bondhu' are notable.
Professor Hans Harder of Heidelberg University in Germany published a research book on Hali in 2004.