Keep close watch on children: PM
Says some quarters cannot tolerate Bangladesh's march forward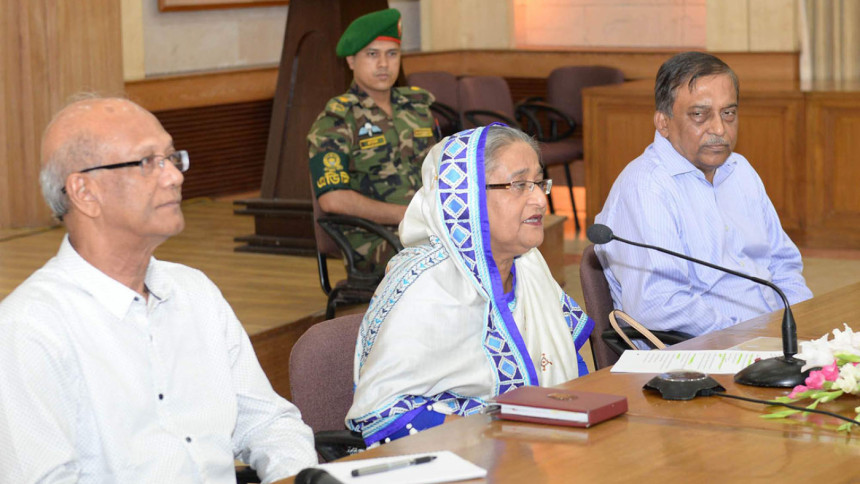 Prime Minister Sheikh Hasina today urged all including parents, teachers and government officials to remain vigilant about the movement of their children to prevent them from getting derailed.
"The people of the country are pious, but not bigots. I simply cannot understand why the children of these pious people, who are receiving education from reputed institutions, good schools and colleges and English medium ones, are turning bigots," she said.
The PM said this while videoconferencing with cross-section of people of 16 districts of Dhaka and Mymensingh divisions from her official residence, Gono Bhaban.
Sheikh Hasina said it needs to be dug out how the culprits are misguiding meritorious students. "We don't want these students to lay down their valuable lives indiscriminately getting derailed from the right path," she said.
The prime minister also asked the public servants to find out the culprits who are trying to derail the softhearted youths.
READ MORE: PM questions rights body reports on disappearance
"We must get rid of this situation. We will have to take our country to the path of development. We must accelerate our socioeconomic development. And I believe we can get rid of this situation," Hasina said.
Reiterating her resolve not to allow the emergence of militancy in the country, the prime minister said the government does not want any recurrence of the incidents happened recently.
"We won't allow any sort of emergence of militancy in the country, we don't want Bangladesh to be the land of militancy…we'll have to take some measurers keeping this view in mind," she asserted.
She said some unwarranted incidents have taken place in Bangladesh and it has to be dealt with strong hands.
"Bangladesh has been marching ahead so fast under the current government! And this might have caused a jealousy to some quarters. Many don't like to see such huge development of the country. They want to stop the development. This pace of development, I think, has prompted a conspiracy against our country," she said.
Education Minister Nurul Islam Nahid and Home Minister Asaduzzaman Khan were, among others, present at the programme.