PM hosts tea party for diplomats
Representatives of international organisations also attended it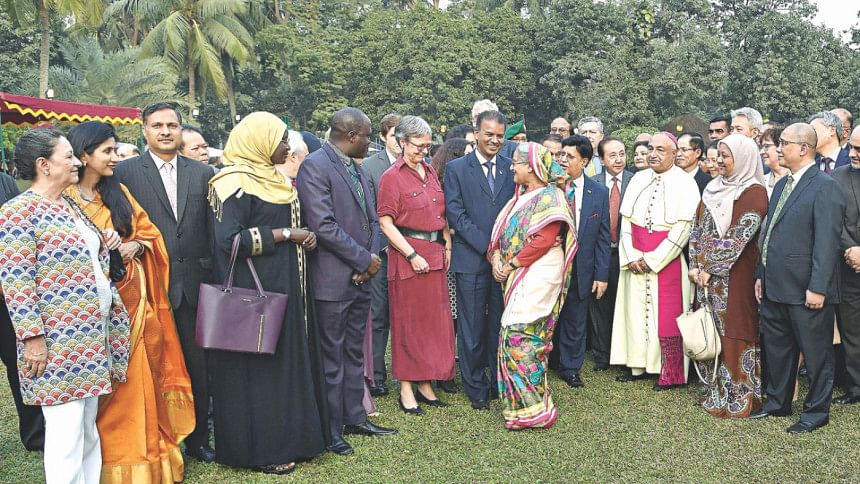 Prime Minister Sheikh Hasina yesterday hosted a tea party at the Gono Bhaban in honour of foreign diplomats, heads of different missions and representatives of international organisations.
She hosted the party at the South Lawn of her official residence.
The PM arrived at the venue at 4:10pm, exchanged pleasantries with the envoys of 48 countries as well as the heads of missions and representatives of international organisations in Bangladesh and enquired about their wellbeing.
The diplomats earlier greeted Hasina presenting her bouquets separately.
Ambassadors, high commissioners and charge d' affaires of different countries, including the USA, the UK, Canada, China, Russia, Japan, India, Saudi Arabia, Germany, the UAE, Sweden, Italy and Vatican City, joined the tea party.
The heads of different foreign missions and international bodies like the United Nations, IMF, World Bank, UNDP, UNHCR, WHO, WFP, ILO, IOM, Unicef also attended the event.
Senior Awami League leaders Amir Hossain Amu, Tofail Ahmed and SA Malek, AL General Secretary and Road Transport and Bridges Minister Obaidul Quader, Foreign Minister AK Abdul Momen, PM's advisers HT Imam, Moshiur Rahman, Maj Gen (retd) Tarique Ahmed Siddique and Salman F Rahman were present, among others.
PM's daughter Saima Wazed Hossain, Principal Secretary Md Nojibur Rahman, Military Secretary Maj Gen Mia Mohammad Zainul Abedin, Press Secretary Ihsanul Karim and PMO Secretary Sajjadul Hassan were also in attendance.
The lawn of the Gono Bhaban was decorated with kure ghar, mat, mora and earthen pots and patriotic songs were played on the occasion.
The guests were entertained with traditional foods and cakes of Bangladesh, including chatpati, fuchka, muri, moa, naru, kadma, murali and bhapa, chitai, patisapta and puli pitha, zilapi, kebab and nan ruti.