Of the ICT workforce, only 16% are women: Study
Of the total ICT (information and communications technology) workforce in Bangladesh, only 16 per cent are women, according to a new study.  
This is the country's first such ICT job market related study titled 'survey on ICT job market in Bangladesh' conducted by Daffodil International University.
The private university today revealed the report, which also found that of the total ICT workforce, 44.31 percent are undergraduate degree holders and 37.79 percent are post-graduate degree holders.
The report was unveiled by the State Minister for ICT Zunaid Ahmed Palak in a ceremony at the university campus in the capital's Mirpur road.
Managing Director of Bangladesh Hi-Tech Park Authority (BHTPA) Hosne Ara Begum and Executive Director of Global Entrepreneurship Network (GEN) Accelerates Susan Amat were also present.
It is very unfortunate that the percentage of women in the ICT workforce is very low in Bangladesh but the country is not lagging behind in global trends, said Palak.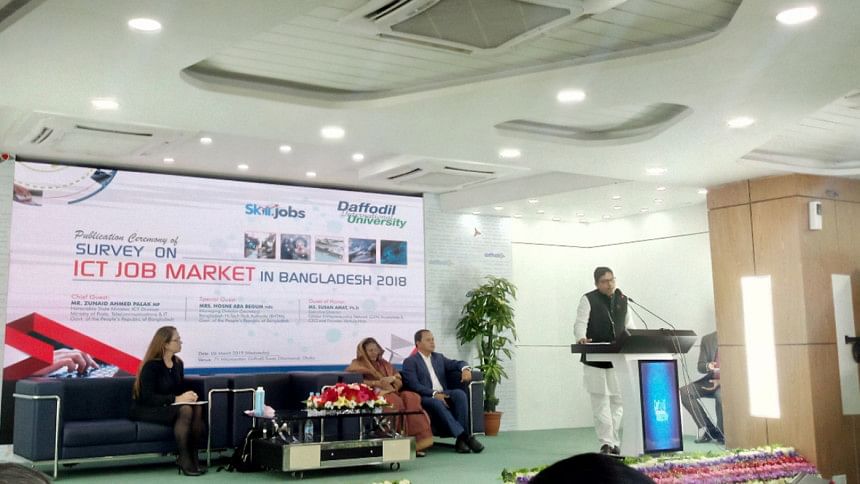 The government has set a target to increase the human resources in ICT, especially for women, said Palak. "Currently, there are about a million ICT related workforce in the country and our target is to add another two million by 2021."
The survey was conducted from January to September last year. They took interviews of the country's 384 ICT organisations and found that data administrator is the most in-demand job in this filed.
The survey also found that 39.97 per cent ICT managers who work in different firms got their jobs through online job portals and 19.41 per cent through contacting the companies' internal website while only 6.39 per cent got their job through educational institutions (university).
Daffodil International University Board Chairman Md Sabur Khan spoke in the event.  Professors and students were also present in the programme.