Hajj stampede: Bangladesh death toll climbs to 137
Shahriar said 53 Bangladesh pilgrims still missing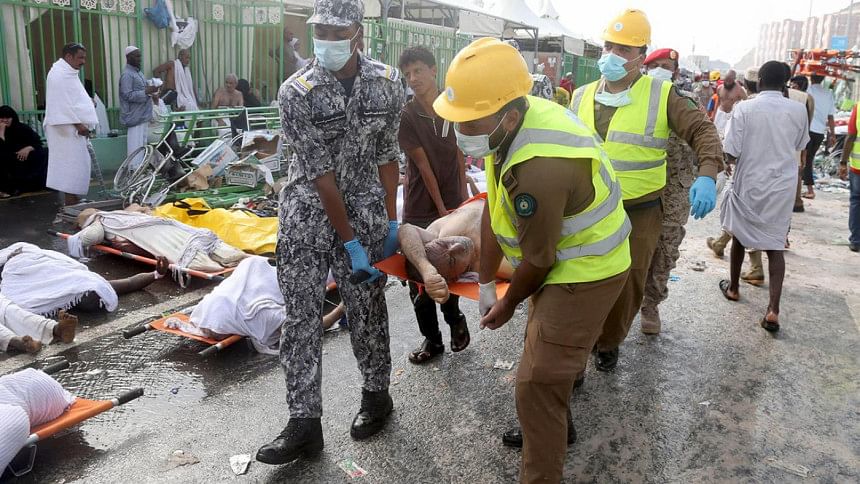 The number of Bangladeshi pilgrims killed in the Mina stampede during Hajj last month now stands at 137, while at least 53 others still remain missing.
State Minister for Foreign Affairs Md Shahriar Alam told this to reporters today after a press briefing in the ministry. "Some Hajjis, who were injured in the stampede, are taking treatment at different hospitals in Saudi Arabia," he added.
The minister also said the detail identities of 96 have been confirmed.
Earlier, Golam Moshi, Bangladesh ambassador to Saudi Arabia said a total of 55 Hajjis have been buried in Saudi Arabia with due respect while the Saudi government was trying to identify the remaining victims by matching their DNA with their relatives.
The embassy has called upon the relatives to send their DNA to help identify the remaining victims.
Among the 1.7 lakh Bangladeshis who went to perform Hajj this year, 70,000 returned home until this morning, said a press release of Biman Bangladesh Airline.
Saudi's official figures of 769 killed and 934 injured in the stampede remained accurate, said Saudi officials, though an investigation was on to find out the reasons behind the stampede.
Two weeks before the Mina incident, 107 people were killed as a construction crane collapsed into the Grand Mosque in Makkah.
Many countries that sent pilgrims to this year's Hajj estimated the number of deaths in the stampede alone at more than 1,000.
News agency Associated Press last week claimed that both the tragedies during the annual Hajj pilgrimage to the kingdom killed at least 1,464 people.
The number is based on the death toll offered by 19 countries through their officials or state media broadcasts.