Gaibandha Santals stage demo for justice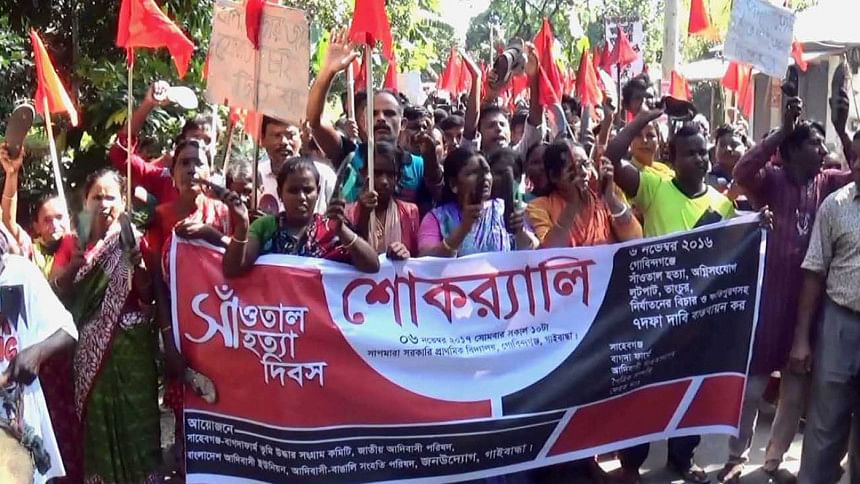 Hundreds of Santals today staged a demonstration in Gobindaganj of Gaibandha demanding justice over the attack them on November 6 last year that left three people of the community dead.
Addressing a rally organised by Bagda Farm Bhumi Uddher Sangram Committee Sapmara Govt Primary School ground, speakers alleged that they are yet to get any justice although one year has passed since the incident, reports our local correspondent.
Three Santal men were killed and many injured during a eviction drive at their village at Shahebganj cane farm by local people and police.  Over 1500 sheds torched and household articles were looted during the attack.
They demanded compensation to the victims and return of their forefather's lands at the cane farm that belongs to Rangpur Sugar Mills.
The government has to compensate families of the three Santals killed with Tk 20 lakh each and those of the injured Tk 10 lakh each, they said. 
They also alleged that no progress has been made to a case filed over the attack on November 16 last year.
A total of 33 named persons were accused in the case including Gaibandha-4 lawmaker and UP chairman of Sapmara union. Police had made three arrests in the case, but all of them were later released on bail. 
The Santal community members also announced to hold sit-in programme in Rajshahi and Rangpur on January 16, 2018. 
Philimon Baske, vice president of Bagda Farm Bhumi Uddher Sangram Committee, presided over the demonstration.